Chinese Medicine for Dogs with Dr. Ruth Roberts on Your Natural Dog Podcast
Traditional Chinese Medicine for dogs is a valuable tool for healing your pets naturally, especially when paired with cannabis, mushrooms, and a healthy diet. In this episode, Dr. Ruth Roberts explains a few of the basic principles of TCM and shares some amazing success stories of dogs and cats she's treated with these methods. Dr. Ruth has been a holistic and integrative vet for over 30 years, and she's also the creator of The Original CrockPet Diet, a balanced, home-cooked diet for pets. 
Traditional Chinese Medicine for Dogs
Traditional Chinese Medicine (TCM) is based on 5,000 years of tradition and observations, and uses acupuncture, herbs, acupressure, food therapy, meditation and exercise to maintain health and treat disease. Dr. Ruth specializes in Food Therapy, as we know the right nutrition is essential to our pet's health.
 As a pet parent in the holistic pet world, you may have heard of the TCM concept that foods are by their own nature, either warming, cooling, neutral, or have other beneficial properties when they interact with your pet's natural energy. Many of your pet's ailments may have a cause related to imbalances within the body. 
You can also support your pet's warm or cool energy by providing the proper food balance for its energy type. A tip from Dr. Ruth is to observe your pet and their environment. 
"The best way to know, is to kind of think about 'Where do I live? What is my pet doing?' So for instance, you're in Florida, where it's damp and hot almost all the time. So we will see dogs like Nina that's just like, 'Ah, this is so hot, I can't stand it!' And so she needs cooling food. And if there are other dogs, like Hyo, who's still sitting in her jacket this morning, she needs some warming up. So we have to look at what are our pets doing?"  – Dr. Ruth Roberts 
As Dr. Ruth explained, a pet who is prone to panting, and seeks a cool spot on the floor, might have a warm energy, and may benefit from cooling proteins. A dog who typically prefers to curl up under a blanket may have cool energy, and may benefit from warm proteins. 
To learn more about how to best help your dog, a trained TCM practitioner like Dr. Ruth Roberts can help you with a nutritional plan for your dog. 
The Original CrockPet Diet 
Paying attention to what our pets eat is the first step in preventative care and maintaining good overall health. 70-80% of the immune system is housed in the gut, yet most pet parents overlook their pet's diet when health issues arise. Dr. Ruth realized that in order for pets to meet their bodies' needs, they needed real food. She created The Original CrockPET Diet to be able to share with pets the same nutritional foods we feed ourselves. 
Most commercial pet foods, beyond being highly processed with added chemicals that can cause a leaky gut, also use high pressure pasteurization, which can remove important nutrients. Dr. Ruth's Original CrockPET Diet helps pet parents take back control of their pet's diet and become their pet's best advocate.
Related: Join Dr. Ruth Roberts and seven other holistic vets & experts at the virtual Do No Harm event for pet parents.
Chinese Medicine for Dogs with Osteosarcoma
Dr. Ruth and I also spoke a lot in this episode about Nina, my doberman who is beating all odds against bone cancer. April 2020 is when Nina first started to limp, and by May she had developed a noticeable tumor on her wrist. In July 2020 we were given the diagnosis of Osteosarcoma, and were told she'd be gone by the end of the year.
It's now 2022 and she's still with us, and thriving thanks to her holistic protocol for osteosarcoma in dogs!
Homeopathy, Traditional Chinese Medicine, medicinal mushrooms and cannabis have helped my dog outlive her bone cancer diagnosis without harmful side effects, stressful procedures, trips to the vet—and all at a much lower cost. Nina is thriving on a strict treatment regimen including Full Spectrum Hemp Extract, Full Cannabis extract with high THC, mushrooms, and diet.
She's already breaking records, and I've made sure to share her journey with pet parents everywhere.
To learn more about Nina's incredible healing journey, check out my original post on Nina's osteosarcoma diagnosis, her one year osteosarcoma update, and her most recent osteosarcoma update in May 2022. 
Episode Recap:
It's important to find a great integrative vet you can consult, even if it's virtually (1:09) 

Don't just take the first recommendation a vet makes; know your options (8:52)

How did you discover traditional Chinese medicine? (13:22)

Chinese medicine for dogs with cancer (16:19)

Chinese food medicine: Hot and cold foods for dogs (18:40)

Cancer has 12 pathways, and TCM can treat all 12 (21:17)

As dogs age, they may struggle with raw or freeze-dried foods (25:45)

How to know if a dog needs cooling or warming foods (29:47)

How to use the Crockpot Cookbook (34:13)
Episode Resources:
Note: Like all discount codes, they don't last furever!
Follow Your Natural Dog on Facebook and Instagram and if you want to see what Angie (our founder) is up to, follow her on Facebook 
About Angela Ardolino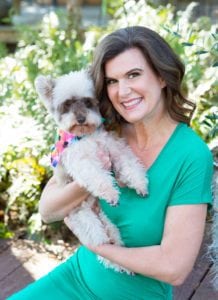 Angela Ardolino is a holistic pet expert who has been caring for animals for over 20 years. Angela owns and operates Fire Flake Farm, her animal rescue farm, as well as two locations of a natural pet salon and shop, Beautify the Beast. She's also the founder of CBD Dog Health, which offers high quality, all-natural cannabis health and wellness products. As well as the founder of MycoDog, a sustainable mushroom tincture line designed for dogs. 
To see Angela on her rescue farm today, surrounded by animals, is to truly see her in her element. Looking at this furry, joyful family you would never suspect that Angela and her pets were once full of aches, pains and anxiety. Angela is the mother to Odie (15-year-old mini-schnauzer), Nina (10-year-old Doberman), Jolene (9-year-old mutt), Maza (9-year-old mutt), Rhemi (10-year-old poodle), multiple ducks, roosters, chickens and geese, plus pigs Ellie and Penelope, Brenda the one-legged pigeon, and the many dogs that she fosters from time-to-time at Fire Flake Farm. 
About Dr. Ruth Roberts
Dr. Ruth Roberts has supported thousands of dogs and cats to overcome health hurdles like kidney disease, GI Illness, allergies, and cancer. Her natural approach to healing creates a gentle yet effective path for your pet to take on their journey to wellbeing. Dr. Ruth created The Original CrockPet Diet, a balanced home-cooked diet for pets, as the foundation of health. Dr. Ruth will help you to develop a health plan for your pet via e-learning, videos on a range of health topics, and One on One coaching.
During her 30-year career as a DVM, Dr. Ruth Roberts has become one of the nation's foremost experts in holistic and integrative veterinary medicine. After graduating from North Carolina State University in 1990, Dr. Roberts began her career practicing traditional, Western medicine. The onset of simultaneous health challenges for both her and her dog Arnold, however, prompted Dr. Roberts to seek solutions outside of the traditional realm of veterinary care she had learned in her textbooks.
Dr. Roberts furthered her education by absorbing the principles of Eastern Veterinary Medicine at the Chi Institute in Florida. Her studies there would eventually form the foundation for her philosophy that "good health begins in the bowl." She is certified in Acupuncture, Chinese Herbology, and Food Therapy. In 2006, Dr. Roberts founded The Original Crockpot Diet and continues to see the dramatic results it makes in the health of her patients. She is a leading consultant in integrative veterinary medicine and advises clients in the United States and internationally through her website DrRuthRoberts.com.