Reactive Dog Training with Michele Rhoades on Your Natural Dog Podcast
Reactive and anxious dogs are more common than ever, because so many dogs weren't socialized during the pandemic. In this episode, Michele Rhoades of Mannered Mutts Dog Training shares her top tips for training and socializing reactive dogs. She also talks about the importance of building a strong foundation with a balanced diet and plenty of exercise, and she offers advice for finding a great trainer in your area.
Episode Recap:
Dogs born during COVID may be reactive because they were never socialized (1:19)

How to socialize a reactive dog (4:16)

It's important to start training and socializing puppies right away (10:07)

95% of behavioral issues can be solved with exercise and training, not drugs (12:30)

When training a reactive dog, make sure you're not reinforcing bad behavior (14:27)

How to respond when dogs start fighting (19:05)

Diet and overall health can have a major impact on dog behavior (22:45)

How to find a great trainer (25:57)
Resources:
Note: Like all discount codes, codes from this episode of YND don't last furever!
Follow Your Natural Dog on Facebook and Instagram and if you want to see what Angie (our founder) is up to, follow her here: Facebook 
About Angela Ardolino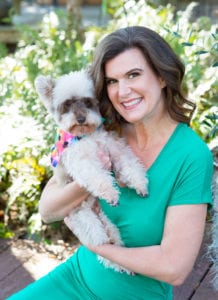 Angela Ardolino is a holistic pet expert who has been caring for animals for over 20 years. She operates a rescue farm, Fire Flake Farm, in Florida. In addition, she owns Beautify the Beast,  a natural pet salon and shop. Moreover, Angela got her certificate in Medical Cannabis Biology and Therapeutic use from the University of Vermont School of Medicine. Next, she founded CBD Dog Health to provide high quality, all-natural medical cannabis products designed specifically for pets. 
Accordingly, she uses Full Spectrum Hemp Extract on all her pets at her rescue farm every day since 2016. Angela has five dogs. Odie a 15-year-old mini-schnauzer, Nina a 9-year-old Doberman. Jolene a 9-year-old mutt, Maza a 9-year-old mutt, and Rhemi a 9-year-old poodle. In addition, she has 4-10 more any time she is fostering or boarding. She is a member of the Society of Cannabis Clinicians and the Veterinary Cannabis Association. In fact, Angela has educated hundreds of medical doctors and veterinarians on the therapeutic uses of medical cannabis on animals.
About Michele Rhoades
Michele Rhoades has been training and rehabilitating dogs for almost 20 years, mostly working with fearful and aggressive dogs. As a kid, Michele's dad was always training dogs- both for the home and the army. When she found training was also her calling, she took classes with a renowned teacher named Bill Walck and started her own company, Mannered Mutts Dog Training, shortly thereafter. In her free time, Michele works at a local animal hospital as well as with numerous rescue organizations, evaluating rescue dogs and providing training to their adoptive homes.