Answers Pet Food: What's next?
Recently I did a podcast with Chelsea Kent from Hero's Pets in Littleton, Colorado. She is the nation's top seller of Answers Pet Food, and has been with them from the beginning. She's on the show because our favorite pet food brand, Answers Pet Food, just went through a huge change. And so we're addressing it.  
We sat down to chat about …
What happened at Answers Pet Food?
Choices we face as pet parents and as owners of our retailers
Finding an alternative to Answers Pet Food
Listen in to the whole episode:
Why did we love Answers Pet Food?
One of the reasons we've recommended Answers Pet Food is their passion for pet health. In the past, we've often brought Billy Hoekman, Nutrition Science Director at Answers Pet Food, in to talk about natural pet health and how food can help heal our pets. 
Related: Finding Raw Answers With Billy Hoekman
When it comes to sourcing, Answers Pet Food sourcing was the best in the industry. The sourcing of any ingredient will significantly impact the nutritional content of that specific food. We want all animals to be happy, free of fear and pain, and living in their natural habitats. Answers made sure their meat was humanely raised, and ensured this by inspecting their farms every week. 
Answers' raw dog food is also more absorbable, with a higher calorie count, allowing you to feed less of it. So if you're feeding it correctly, it works out to be the least expensive product to use, of all the raw dog foods that are complete, balanced and high quality. 
A company that was woman owned, highly ethical, and capable of answering all of our questions authentically, it's definitely difficult to compete when a company is checking all the boxes like they were. 
These qualities can't be found in your typical grocery store products. Unfortunately the majority of kibbles in stores are not even using food as ingredients. Almost 100% of the ingredients are actually EPA registered chemicals and condemned rendered meats. It's also highly processed, with a primary source of fat in many pet foods being recycled restaurant grease. Many companies also use high pressure pasteurization, which can damage the product, removing important nutrients.  
Related: CBD Dog Health Visits Answers Pet Food
What happened at Answers Pet Food?
It was announced early this month that the founders of Answers Pet Food, Jacqueline Hill and Roxanne Stone, had left the company, followed by the Nutrition Science Director, Billy Hoekman, and their on staff veterinarian, Dr. Doug Knueven.
On Friday, April 30th, Answers Pet Food's Nutrition Science Director Billy Hoekman publicly announced his resignation from the company on social media, ending all affiliation with the company. 
Answers' founders, Jacqueline Hill and Roxanne Stone, also released a public statement announcing their resignation on May 6th. 
Answers Pet Food responded with this released statement: 
Alternatives to Answers Pet Food
So how do you transition from Answers Pet Food? Where do we go next?
Chelsea helped us answer this question in our podcast. Her answer is to first identify what your goals are. 
Are you looking for a company doing regenerative farming? 
Another company doing this is Raw Bistro. 
Are you looking for a comparable cost? 
Carna4 is not raw dog food, but is at the same price point and is more similar to a dehydrated diet than kibble. 
Are you looking for raw dog food with fresh food ingredients? 
Dr. Harvey's, Raw Bistro, Anderson's Natural, Marty's Meals, and Small Batch are great options. 
Are you looking to manage a disease condition, ketogenic diet or specific macronutrient profile? 
Almost any raw diet is capable of being modified to reach specific macronutrient goals. We recommend Fatworks brand of fats, CocoTherapy for coconut oil, Carna4 for sprouted seeds, and there's a lot of whole food, fruit and vegetable options that can be added in. 
Related: Raw Feeding Made Easy with RawStruck
Final Thoughts on Answers Pet Food
So what does this mean for pet parents and retailers? It means we have to wait and see how these big changes in the company affect the product. Will these changes affect the company's manufacturer relationships or ingredient sourcing? Time will tell, and in the meantime, we're suggesting other diets to ensure our pets have options. 
When you're buying a well-known brand, that's easily accessible at the grocery store or any pet store, those companies have to source from wherever they can to make sure that product continues to be available and accessible to you at any time, in any place. This allows for consistency, but not quality. When you switch over to a small ethical manufacturer, their primary focus is going to be quality, which means sometimes they're not going to have access to the best sources and they're not willing to compromise their quality, so sometimes you'll need to endure gaps. This means being willing to get your pet used to rotation in their diet, and working with what you have available in your area if quality is your primary goal. 
We always encourage pet parents to do their own research, a great place to start is Susan Thixton's Truth About Pet Food, as well as our podcast guest Chelsea Kent's own Hero's Pets. 
Related: Creating More Transparency in Food with Larry Bohlen
About Angela Ardolino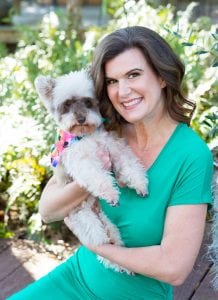 Angela Ardolino is a holistic pet expert who has been caring for animals for over 20 years and operates a rescue farm, Fire Flake Farm, in Florida. She is also the owner of  Beautify the Beast,  a natural pet salon and shop. After getting her certificate in Medical Cannabis Biology and Therapeutic use from the University of Vermont School of Medicine, she founded CBD Dog Health to provide high quality, all-natural medical cannabis products designed specifically for pets. Angela has seven dogs, Odie a 12-year-old mini-schnauzer, Nina an 8-year-old Doberman. Jolene a 7-year-old mutt, Maza a 7-year-old mutt, Rhemi an 8-year-old poodle, Potato a 15-year-old shih-tzu, and Miss Daisie a 15-year-old black lab, plus 4-10 more at any time she is fostering or boarding. She uses Full Spectrum Hemp Extract on all her pets at her rescue farm every day, and has since 2016. She is a member of the Society of Cannabis Clinicians, the Veterinary Cannabis Association and has trained hundreds medical doctors and veterinarians about the therapeutic uses of medical cannabis on animals. Visit www.angelaardolino.com for more information.
About Chelsea Kent: 
With experience extending back to 2000, Chelsea Kent has developed a diverse, comprehensive education and experienced perspective in holistic nutrition and product integrity by spending vast numbers of hours on nutritional, product and regulatory research in the pet industry.  She continues to work closely with the owners of multitudes of holistic pet product manufacturers, complementary medicine practitioners, Veterinarians, AAFCO, State Departments of Agriculture, the FDA and many more. Working as a product rep in the pet food industry taught Chelsea that good information must be found at the source, from the manufacturer company owners, and not from product reps or labels. Upon understanding the rules, regulations, and practices in the pet food industry, Chelsea and her mother, Kathy, decided to open Hero's Pets with the intention of creating a place where consumers can come to trust that the products don't just SAY they are quality but have verified their claims through documentation and evidence. Visit www.herospets.com for more information.