Canine Chiropractic with Dr. Michele Broadhurst
Recently I did a podcast with Dr. Michele Broadhurst, DC, a certified and experienced human and animal chiropractor and canine rehabilitation practitioner. Dr. Broadhurst has dedicated her life to finding better and more efficient ways of helping her patients recover from pain and injury. She joined us to discuss integrative pet health and how she uses her chiropractic expertise to treat many of the problems that plague our pets. In addition, her newly released book, "A Clinician's Guide to Myofascial Pain in the Canine Patient", is an essential resource for anyone who is interested in treating pain in their respective practices. Visit her website to learn more about Dr. Broadhurst's human, equine or canine chiropractic services. 
"I think integrative medicine in the veterinary world is becoming so much more important, because you can't fix everything with a pill. But you can fix it with herbals, you can fix it with chiropractic, you can fix it with acupuncture, you can fix it with physical therapy. And very often it's a combination of everything together, working innately." – Dr. Michele Broadhurst
Listen in to the whole episode:
About Angela Ardolino: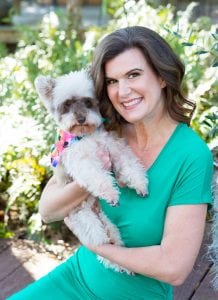 Angela Ardolino is a holistic pet expert who has been caring for animals for over 20 years. She operates a rescue farm, Fire Flake Farm, in Florida. In addition, she owns Beautify the Beast,  a natural pet salon and shop. Moreover, Angela got her certificate in Medical Cannabis Biology and Therapeutic use from the University of Vermont School of Medicine. Next, she founded CBD Dog Health to provide high quality, all-natural medical cannabis products designed specifically for pets. 
Accordingly, she uses Full Spectrum Hemp Extract on all her pets at her rescue farm every day since 2016. Angela has five dogs. Odie a 12-year-old mini-schnauzer, Nina an 8-year-old Doberman. Jolene a 7-year-old mutt, Maza a 7-year-old mutt, and Rhemi an 8-year-old poodle. In addition, she has 4-10 more any time she is fostering or boarding. She is a member of the Society of Cannabis Clinicians and the Veterinary Cannabis Association. In fact, Angela has educated hundreds of medical doctors and veterinarians on the therapeutic uses of medical cannabis on animals. 
About Dr. Michele Broadhurst:
Dr Michele Broadhurst DC; ICCSP, IVCA, FIAMA; CCRP; Mtech Chiro (RSA): Dr Broadhurst graduated from Chiropractic College (DIT) in 2003. Additionally, she was awarded a diploma as an Internationally Certified Chiropractic Sports Physician from the International Federation of Chiropractic Sports. Then, Dr Broadhurst joined Dr Angus and his West Coast Chiropractic team in 2005. Then, in 2006, she branched out to the USA to Options for Animals and certified with them and the International Veterinary Chiropractic Association as an Animal Chiropractor. Dr Broadhurst built an exceptionally busy and prominent small and large animal practice, specializing in stud, racehorses and canines. In 2018 Drs Angus and Broadhurst moved to the USA. She qualified under Dr John Amaro (IAMA) as a Chiropractic acupuncturist and certified as a Canine Rehabilitative Practitioner through the University of Tennessee, she is one of only four chiropractors worldwide who hold that certification as a DC.