Caring for Dogs with Cancer with Dr. Sarah Urban on Your Natural Dog Podcast
When a dog gets cancer, conventional vets may tell you that pharmaceuticals are the only option. But holistic interventions like full spectrum hemp extract, lifestyle changes, and adaptogens can prolong your dog's life and keep cancer from spreading without causing pain or weakening their immune system. In this episode, Dr. Sarah Urban joins us to discuss caring for dogs with cancer, and shares some real-life examples of the results she's seen from treating dogs with an integrative approach. She also describes the common signs of cancer in dogs and explains how different cancers might show up on a blood test. 
Episode Recap:
Holistic vets are trained to notice common signs of cancer in dogs (4:54)

A combination of lifestyle and holistic treatments can help a dog with cancer (10:05)

How cancer can show up on a blood test (14:00)

Diet, full spectrum hemp extract, and adaptogens can support the body when dogs have cancer (18:35)

The benefits of treatments like chiropractic, acupuncture, and reiki (26:18) 

How to detox a dog (31:01)

What to feed a dog with cancer, and the benefits of a ketogenic diet (34:55)

Holistic vets and integrative oncologists are hard to find, but it's worth it (37:48)
Episode Resources:
Follow Your Natural Dog on Facebook and Instagram and if you want to see what Angie (our founder) is up to, follow her here: Facebook 
For more on caring for dogs with cancer, check out my most recent update on my dog Nina, 2 years post osteosarcoma diagnosis!
About Angela Ardolino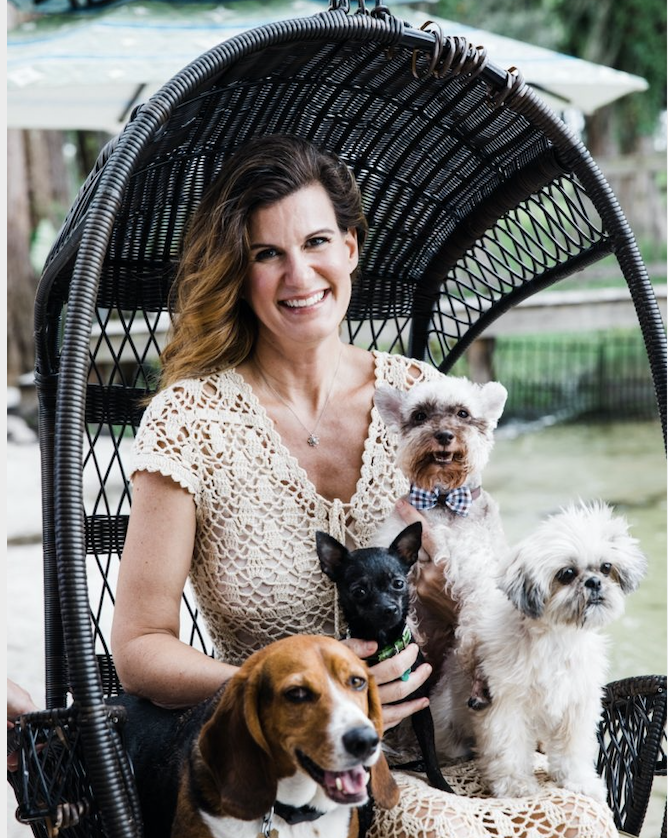 Angela Ardolino is a holistic pet expert who has been caring for animals for over 20 years. Angela owns and operates Fire Flake Farm, her animal rescue farm, as well as two locations of a natural pet salon and shop, Beautify the Beast. She's also the founder of CBD Dog Health, which offers high quality, all-natural cannabis health and wellness products. As well as the founder of MycoDog, a sustainable mushroom tincture line designed for dogs.
To see Angela on her rescue farm today, surrounded by animals, is to truly see her in her element. Looking at this furry, joyful family you would never suspect that Angela and her pets were once full of aches, pains and anxiety. Angela is the mother to Odie (15-year-old mini-schnauzer), Nina (10-year-old Doberman), Jolene (9-year-old mutt), Maza (9-year-old mutt), Rhemi (10-year-old poodle), multiple ducks, roosters, chickens and geese, plus pigs Ellie and Penelope, Brenda the one-legged pigeon, and the many dogs that she fosters from time-to-time at Fire Flake Farm.
About Dr. Sarah Urban
Sarah Urban DVM is a 2012 graduate from Oklahoma State University School of Veterinary Medicine. She is a certified Canine Rehabilitation Practitioner (CCRP), certified in Mixed Animal Acupuncture (CVA) from the Chi Institute, and dually certified in Veterinary Spinal Manipulation Therapy (cVSMT) aka chiropractic from the Healing Oasis and Health Pioneers programs. She is currently working on a master's program in Traditional Chinese Veterinary Medicine from the Chi Institute. She also has attended animal postural rehabilitation classes which combine movement, dentistry, farrier work, and chiropractic. She is a member of the College of Animal Chiropractors, Inc. (CoAC).
Her special interests include canine and equine sports medicine, nutrition, applied kinesiology, and integrative cancer therapies. Dr. Urban wants all clients to feel enabled and empowered in their decisions that they make for their animal companions. Dr. Urban's business Enabled Integrative Veterinary Services is an integrative mobile veterinary practice that brings services right to your doorstep. She is currently seeing new patients in York, Adams, Berks, Lancaster, and other surrounding counties. Dr. Urban resides in Gettysburg, Pa with her Coconut Retriever Lassie, her Border Collie Rex and her Quarter Horse Mare Indy