CBD for Equines: Gus the Donkey
Saving lives is where I knew I was always meant to be. I grew up on about an acre of land in Miami, spending most of my time with the neighborhood strays, including turtles, ducks, doves, and rabbits, among other animals. About 15 years ago, I moved to a farmhouse on three acres of land in Lutz, Florida, knowing it would be the perfect place to start my dream rescue for dogs and farm animals. My dream farm is now realized, known as Fire Flake Farm, and it's my own safe haven, along with all my rescues. 
CBD is becoming more prevalent, as people begin to understand the numerous benefits. In fact, a number of prestigious colleges and research institutes across the country are now looking into the benefits of CBD for equines. Namely, Texas A&M is expected to release an important study this year, looking into various subjects such as dosing, efficacy for pain management and anxiety as well as optimal routes of administration for horses and other equines. It's no wonder equine enthusiasts are driving demand for research into these products. 
Gus the Donkey
Gus, my neighbor's donkey, inspired me to develop CBD for equines, in addition to our CBD tinctures and salves for dogs and cats. My neighbor often calls me if there are any problems with his animals. This time, my neighbor had called to say their family donkey, Gus, was declining fast. What started as strange behavior quickly took a turn for the worse. 
They couldn't remember the last time he had a bowel movement, and by the time I arrived, he was lying down with the veterinarian ready to put him down. He was impacted, bloating, and unable to stand. At this point, they were certain there was no way he was coming back from this.
Of course, I went straight to trying the Full-Spectrum HEAL tincture for dogs. I lifted his lip and administered 2 full droppers of Heal, directly onto his gums, which equates to about 74 mg. I thought the least it would do was relieve his pain and suffering.
Instead, Gus began to perk up, and then even stood up on his own. An hour later, he had a bowel movement and then another. My neighbor, his wife, and their three kids were there, and everyone was emotional and thankful to see him come back to himself. Without the tincture, the veterinarian would have had no choice but to put him down. Full Spectrum CBD was his last chance- and it worked!
Since then he has continued to take the full-spectrum hemp extract, and he hasn't experienced any issues and is back to his normal self.
Equine Colic
The veterinarian eventually diagnosed Gus with colic. Later, I discovered through one of my colleagues that up to 90% of the equines she treats have colic. I didn't know back then that colic was so prevalent. But, I knew CBD brings the body back to balance. All animals have an endocannabinoid system, so I knew it could help.  
According to BMC Veterinary Research, "In contrast to other equids, impaction was the most commonly reported cause of colic." The study continued to state "in other equid populations, such as the horse, colic is also a significant problem in terms of morbidity, mortality and economics; in some equine populations it is the most common cause of death." 
The occurrence of gastric ulcers has also been shown to result in the development of colic. For these cases, getting the ulcers under control could prevent colic in the equine population, and it may just take a little extra help getting the body back to balance naturally.
The research alone stresses how helpful CBD could be in the equine world. And, seeing it myself in Gus, confirmed it. 
Benefits of CBD for Equines
CBD helps colic by communicating with receptors in a horse's body to regulate mood, pain, sleep, digestion, and overall well-being. Since colic is a digestive system disorder, CBD may be able to help prevent colic from occurring by bringing the gastrointestinal system into homeostasis (balance). If a horse already has colic, CBD can help by not only bringing the body back to balance, but may also help with sleep, relieving pain, and relieving any anxiety caused by the pain. 
As a guest on my podcast, It's A Dog's Life, Dr. Sarah Urban talked about her experience using CBD with horses. She spoke about how CBD helps relieve the fear and start allowing these horses to retrain and build new habits.

"We see horses with lots of issues. Either abuse, neglect and other awful things. We always tell owners and rescues that they can use some CBD oil while they're trying to retrain. The brain can reform these new connections that are good."

Having this too, to minimize stress and anxiety, is so important for all equines, but especially those with gastric issues like colic. In many cases, fear is one of the predominant factors that exacerbate colic. 
Research has found CBD allows the lower esophageal sphincter to relax, prevents the movement of gastric acid, and prevents acid secretion. In addition, CBD also helps the intestines move properly and release compounds necessary for proper health. This is particularly important for the types of colic that are caused from trapped gas or impacted stones since it helps keep things in the digestive tract moving. 
The anti-inflammatory properties of CBD are also important to note. CBD oil contains strong omega-3's that are well-known for their anti-inflammatory properties. Plus CBD itself is also known to fight inflammation, especially within the gastrointestinal tract.
CBD Dog Health offers Full Spectrum Hemp Extract horse tinctures as well as topical salves. The Ease tincture is a great natural anti-inflammatory for horses, great for arthritis, aches and pains, and allergies, as well as IBD, conjunctivitis, laminitis, and poor gut health. This organic, full spectrum tincture contains 6,000 mg of CBD, and is formulated with turmeric and frankincense. The CALM tincture is a full spectrum 6,000mg CBD tincture, formulated with lavender essential oil, and designed to address anxiety, stress, and fear. Finally, our HEAL tincture is our most potent tincture for horses, at 10,000 mg of pure, full-spectrum hemp extract, formulated to help with seizures, cushing's disease, colic, autoimmune conditions, and cancer.
Safety of CBD for Equines
We understand that similar to other pet parents, horse lovers also want to ensure their best friend is completely safe at all times. LSU School of Veterinary Medicine recently conducted a study involving horses, focused on safety, comfort, mobility, confidence, and behavior. The purpose of the study was to determine if CBD leads to any negative effects in horses in particular. 
In the study, 20 healthy adult Thoroughbred horses were evaluated for approximately two months. Before the study began, blood work (CBC and biochemical panel) was reviewed. The horses were then divided into two control groups; one group was treated with supplements containing CBD and the other was a control group who did not receive any supplementation. 
The horses were monitored daily, for any signs of adverse reactions. Blood work was evaluated on days 28 and 56, approximately two hours following administration of the CBD supplement. The study concluded there were no adverse effects from CBD in the horses. The CBD supplement did not cause sedation or any lack of muscle control. And, it did not change the horse's gait. CBD was determined to be completely safe.
The Bottom Line
Every animal has an endocannabinoid system, and we are trying to educate as many pet parents and animal lovers as we can, to explain the numerous benefits of cannabis. Cannabis and the endocannabinoid system go hand-in-hand. I will continue to do all I possibly can, to ensure all animals have access to cannabis, to maximize their health and live their best life. 
I personally keep the CBD Dog Health's horse tinctures on hand at all times. One dose is between 50 and 80 milligrams of full-spectrum hemp extract, with naturally occurring cannabinoids including CBD and THC. I love the ease of grabbing a bottle, administering a dose directly to the animal's gums, and seeing immediate results. Pain and suffering, GONE, instantly! Cannabis is the original pain reliever, with little to no side effects. What's more, it calms fear and anxiety too! What could be better than that?
About Angela Ardolino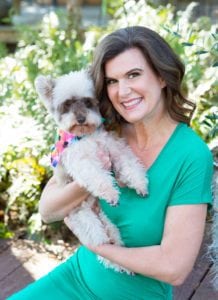 Angela Ardolino is a holistic pet expert who has been caring for animals for over 20 years. She operates a rescue farm, Fire Flake Farm, in Florida. In addition, she owns Beautify the Beast,  a natural pet salon and shop. Moreover, Angela got her certificate in Medical Cannabis Biology and Therapeutic use from the University of Vermont School of Medicine. Next, she founded CBD Dog Health to provide high quality, all-natural medical cannabis products designed specifically for pets. 
Accordingly, she uses Full Spectrum Hemp Extract on all her pets at her rescue farm every day since 2016. Angela has five dogs. Odie a 12-year-old mini-schnauzer, Nina an 8-year-old Doberman. Jolene a 7-year-old mutt, Maza a 7-year-old mutt, and Rhemi an 8-year-old poodle. In addition, she has 4-10 more any time she is fostering or boarding. She is a member of the Society of Cannabis Clinicians and the Veterinary Cannabis Association. In fact, Angela has educated hundreds of medical doctors and veterinarians on the therapeutic uses of medical cannabis on animals.