CBD Regulations for Pets with Hernando Umana on Your Natural Dog Podcast
While hemp is federally legal, there is still a lot of confusion regarding the legality and regulation of CBD for pets. With terms like CBD, Cannabis, Full Spectrum Hemp, Broad Spectrum Hemp, and more, it can be difficult for pet parents to know what to look for in a CBD for pets product. In this episode of Your Natural Dog, we're joined by CBD Dog Health's own Chief Marketing Officer, Hernando Umana, CBD expert and certified in Cannabis Science and Medicine. Hernando joins us to discuss the legalities and regulations of CBD for pets, and what to know before talking to your veterinarian or finding a product for your pet. 
Episode Recap: 
How CBD helped Hernando & Blanche 

Hemp is federally legal, Cannabis is more complicated

Hemp vs Cannabis vs Marijuana

State Restrictions on CBD & Hemp

Veterinary Board Restrictions

Importance of COAs & Third Party Testing

CBD Companies & Dishonest Practices

Can I talk to my Veterinarian about Hemp?
Episode Resources:
Note: Like all discount codes, they don't last furever!
Follow Your Natural Dog on Facebook and Instagram and if you want to see what Angie (our founder) is up to, follow her on Facebook 
About Angela Ardolino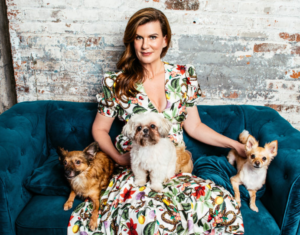 Angela Ardolino is a holistic pet expert and educator who has been caring for animals for over 20 years. Angela owns and operates Fire Flake Farm, a rescue animal sanctuary farm, and two locations of her natural pet salon and shop Beautify the Beast. She's also the founder and formulator of CBD Dog Health, which offers high quality, all-natural cannabis health and wellness products for pets; and MycoDog, which creates and produces high-quality medicinal mushroom and adaptogen tinctures specifically for pets.
Accordingly, she has used CBD Dog Health's Full Spectrum Hemp Extract, and now MycoDog mushroom extracts, on all her pets at her rescue farm every day since 2016. Angela has Odie, a 16-year-old mini-schnauzer, as well as Jolene, Maza, and Rhemi. In addition, she has 4-10 more any time she is fostering or boarding. She is a member of the Society of Cannabis Clinicians and the Veterinary Cannabis Association. In fact, Angela has educated hundreds of medical doctors and veterinarians on the therapeutic uses of medical cannabis on animals.
About Hernando Umana
Father of senior Shih Tzu Blanche, and senior rescue Linda, Hernando Umana is co-owner of CBD Dog Health, as well as a Broadway performer in New York City. Despite his confidence and talent, Hernando found himself struggling with stress and anxiety after graduation. In a profession where anxiety is absolutely crippling, he wasn't getting the kind of work he knew he should be getting. He did not want to turn to toxic medications and was searching for a way to treat his anxiety without scary side effects. Angela Ardolino, owner of CBD Dog Health, introduced Hernando to the amazing benefits of CBD, both for his own anxiety and his pups. That's when he learned the amazing power of Cannabis medicine, for us and our pets. 
Four years after being introduced to CBD, Hernando had graduated from Dr. Sulak's Healer Cannabis Dosage Protocols and Methodologies, as well as University of Vermont's Cannabis Science and Medicine program. Thanks to CBD, he has also opened two first national tours, been on Broadway, worked with Cyndi Lauper, Brendan Urie, Andrew Loyd Webber, and many others. And now – Hernando is Co-Owner of CBD Dog Health. Hernando works tirelessly to share the benefits of CBD with pet parents across the country. CBD was life-changing for him and his dogs, and he could not be happier to be in a business doing something he loves so much that helps dogs like Blanche and Linda live a happy, stress-free life.