Communicating with your Dog with Dr. Isla Fishburn on Your Natural Dog Podcast
Beyond diet, there are other aspects of wellness that we cannot forget as pet parents- there is the physical, mental, emotional, spiritual and environmental state of a dog. In this episode, Angela talks with Dr. Isla Fishburn, a zoologist and shamanic practitioner who has explored canine wellbeing for over a decade. Dr. Fishburn's goal is to always bring teachings on how to improve the connection and relationship of dogs and their guardians, and in this episode, you will learn tips on how to do just that.
Episode Recap:
How pandemic pups have been affected (1:30)

Ridding of expectations from your dog (5:05)

The critical period of socialization and desensitization (7:53)

Approaching your dogs emotional needs on an individual level (13:05)

How to spiritually connect with your dog (19:03)

Harnessing emotions during a dogs transition (24:43)

Finding plant allies to use along your journey (30:13)

Coming back to the present moment with your dog (36:30)
Episode Resources:
Note: Like all discount codes, they don't last furever!
Follow Your Natural Dog on Facebook and Instagram and if you want to see what Angie (our founder) is up to, follow her on Facebook
About Angela Ardolino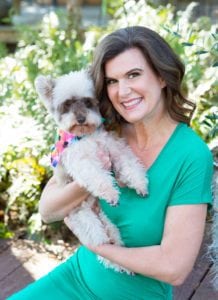 Angela Ardolino is a holistic pet expert who has been caring for animals for over 20 years. Angela owns and operates Fire Flake Farm, her animal rescue farm, as well as two locations of a natural pet salon and shop, Beautify the Beast. She's also the founder of CBD Dog Health, which offers high quality, all-natural cannabis health and wellness products. As well as the founder of MycoDog, a sustainable mushroom tincture line designed for dogs.
To see Angela on her rescue farm today, surrounded by animals, is to truly see her in her element. Looking at this furry, joyful family you would never suspect that Angela and her pets were once full of aches, pains and anxiety. Angela is the mother to Odie (15-year-old mini-schnauzer), Nina (10-year-old Doberman), Jolene (9-year-old mutt), Maza (9-year-old mutt), Rhemi (10-year-old poodle), multiple ducks, roosters, chickens and geese, plus pigs Ellie and Penelope, Brenda the one-legged pigeon, and the many dogs that she fosters from time-to-time at Fire Flake Farm.
About Dr. Isla Fishburn
Dr Isla Fishburn focuses on animal wellness. She is passionate about improving wellness efforts and ecosystem health from the individual level up, where we access wider consciousness and intelligence with all of life, including our dogs. Isla wants to create a co-existence and connection with dogs in a way that is beyond a mindset and, instead, from the soul set where consciousness sits. She combines science with spiritual wisdom to better the life of dogs in all aspects of their wellness; physical, mental, emotional, spiritual, environmental and how the wellness state of a dog's guardian can affect a dog's wellness. Isla focuses on deepening the connection of a human to live intuitively, consciously and authentically so that they and their dog can co-exist from a place of oneness, wholeness, acceptance and energetic alignment. Here, Isla focuses on the understanding that, at its most fundamental level, everything is vibration and frequency. Isla combines her knowledge as a zoologist, a Masters and PhD in conservation biology, a shamanic practitioner, wolf handler and exploring canine wellness for over a decade to bring teachings about how to improve the wellness, connection and relationship of dogs and their guardians. She is deeply focused on teaching and exploring the importance of vibrational health, living consciously and spiritually so that dogs and people are living their best life. You can read more at kachinacanine.com