Dog Obesity with Dr. Adam Christman on Your Natural Dog Podcast
Don't be discouraged if your dog is obese- the condition can usually be reversed! In this episode, Dr. Adam Christman explains some of the most common causes of obesity in dogs, including the ways that weight affects different breeds. He also shares his top tips for improving your dog's diet and discusses his integrative approach to treating obesity in dogs. Dr. Christman is an integrative vet with more than 18 years of experience (and a massive following on TikTok), and he's passionate about empowering pet parents. You won't want to miss this episode! 
Episode Recap:
Dr. Adam Christman explains why he loves the community on TikTok (1:11)

DNA testing can help us better care for our dogs, especially for rescues (5:08)

How kibble contributes to obesity (10:46)

What to do if your dog is on a raw diet and still obese (16:43)

How to treat your dog's obesity with an integrative approach (20:22)

How to connect with Dr. Adam Christman (29:37)
Episode Resources:
Note: Like all discount codes, they don't last furever!
Follow Your Natural Dog on Facebook and Instagram and if you want to see what Angie (our founder) is up to, follow her here: Facebook and Instagram
About Angela Ardolino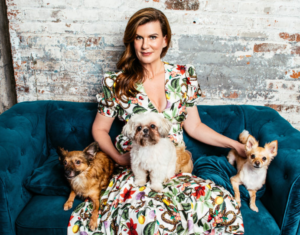 Angela Ardolino is a holistic pet expert who has been caring for animals for over 20 years. Angela owns and operates Fire Flake Farm, her animal rescue farm, as well as two locations of a natural pet salon and shop, Beautify the Beast. She's also the founder of CBD Dog Health, which offers high quality, all-natural cannabis health and wellness products. As well as the founder of MycoDog, a sustainable mushroom tincture line designed for dogs.
To see Angela on her rescue farm today, surrounded by animals, is to truly see her in her element. Looking at this furry, joyful family you would never suspect that Angela and her pets were once full of aches, pains and anxiety. Angela is the mother to Odie (15-year-old mini-schnauzer), Nina (10-year-old Doberman), Jolene (9-year-old mutt), Maza (9-year-old mutt), Rhemi (10-year-old poodle), multiple ducks, roosters, chickens and geese, plus pigs Ellie and Penelope, Brenda the one-legged pigeon, and the many dogs that she fosters from time-to-time at Fire Flake Farm.
About Dr. Adam Christman
Adam Christman, DVM, MBA, is the chief veterinary officer for dvm360®—an MJH Life Sciences® company —who oversees content strategy and development and is the brand voice and personality for dvm360®'s multimedia channels. As a charismatic leader, he brings wit, humor, and authenticity to animal health care as the host of a new web-based talk show, dvm360 Live!™, The Vet Blast Podcast, continuing education webinars, and live media broadcasts. Christman also has been in private practice and shelter medicine for 18 years and is currently a member and treasurer of the New Jersey Veterinary Medical Association. He received his DVM degree from Iowa State University's College of Veterinary Medicine in Ames, Iowa, and his MBA from Aspen University in Denver, Colorado.

Christman is a national thought leader, speaker, and author on practice management, social media, and rehabilitation, and coauthored, "Honey, Have You Squeezed the Dachshund? A Pet Owner's Guide for Owners Who Are Terrified of IVDD"—a book on dogs with disabilities. He has been featured in multiple publications and appeared on various multimedia shows throughout the United States, sharing his expertise and passion on all things veterinary medicine. As an avid social media influencer for animal health care, he has over 800,000 followers on TikTok and 53,000 followers on Instagram. He loves to engage with fellow pet parents and veterinary professionals across social media. Christman is an advocate of Pride VMC and Pawsibilities. He is also the proud dog dad to 4 dachshunds and believes no one should be deprived of the incredible human-animal bond.