Helping Horses with CBD with Dr. Sarah Urban on Your Natural Dog Podcast
Did you know that all farm animals, from goats to pigs to horses, can benefit from full spectrum hemp extract? In this episode of Your Natural Dog with Angela Ardolino, Angela talks with Dr. Sarah Urban, a holistic veterinarian who specializes in treating farm animals with treatments like chiropractic, acupuncture, and herbal medicine. Dr. Urban joins us to discuss helping horses with CBD, as well as other farm animals. Dr. Sarah explains how CBD can treat pain, anxiety, and more for farm animals, and she also shares some of her best tips for keeping horses healthy.
Episode Recap:
Dr. Sarah is an expert on treating farm animals holistically (1:05)

Full spectrum hemp extract can provide pain relief for horses in just a few minutes (2:08)

For horses, CBD often pairs well with treatment methods like chiropractic (7:43)

Hemp is a safe, effective alternative to other drugs used to calm horses (11:09)

Treating other farm animals with CBD (16:06)

Sometimes animals will even realize that the tinctures are relieving their pain (20:25)

Strategies for helping horses with CBD for pain and inflammation (24:00)

How to connect with Dr. Sarah Urban (28:04)

How do I help my dog stay calm during the holidays? (29:05)
Resources:
About Angela Ardolino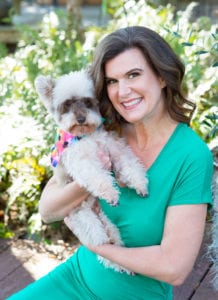 Angela Ardolino is a holistic pet expert who has been caring for animals for over 20 years. She operates a rescue farm, Fire Flake Farm, in Florida. In addition, she owns Beautify the Beast,  a natural pet salon and shop. Moreover, Angela got her certificate in Medical Cannabis Biology and Therapeutic use from the University of Vermont School of Medicine. Next, she founded CBD Dog Health to provide high quality, all-natural medical cannabis products designed specifically for pets. 
Accordingly, she uses Full Spectrum Hemp Extract on all her pets at her rescue farm every day since 2016. Angela has five dogs. Odie a 12-year-old mini-schnauzer, Nina an 8-year-old Doberman. Jolene a 7-year-old mutt, Maza a 7-year-old mutt, and Rhemi an 8-year-old poodle. In addition, she has 4-10 more any time she is fostering or boarding. She is a member of the Society of Cannabis Clinicians and the Veterinary Cannabis Association. In fact, Angela has educated hundreds of medical doctors and veterinarians on the therapeutic uses of medical cannabis on animals.
About Dr. Sarah Urban
Sarah Urban DVM is a 2012 graduate from Oklahoma State University School of Veterinary Medicine. She is a certified Canine Rehabilitation Practitioner (CCRP), certified in Mixed Animal Acupuncture (CVA) from the Chi Institute, and dually certified in Veterinary Spinal Manipulation Therapy (cVSMT) aka chiropractic from the Healing Oasis and Health Pioneers programs. Dr. Urban is currently working on a master's program in Traditional Chinese Veterinary Medicine from the Chi Institute. She also has attended animal postural rehabilitation classes which combine movement, dentistry, farrier work, and chiropractic.
Dr. Urban is a member of the College of Animal Chiropractors, Inc. (CoAC). Her special interests include canine and equine sports medicine, nutrition, applied kinesiology, and integrative cancer therapies. Dr. Urban wants all clients to feel enabled and empowered in their decisions that they make for their animal companions. Dr. Urban's business Enabled Integrative Veterinary Services is an integrative mobile veterinary practice that brings services right to your doorstep. She is currently seeing new patients in York, Adams, Berks, Lancaster, and other surrounding counties. Dr. Urban resides in Gettysburg, Pa with her Coconut Retriever Lassie, her Border Collie Rex and her Quarter Horse Mare, Indy.