How to Help Dogs with Firework Anxiety with Carter Easler on Your Natural Dog Podcast
Summer is almost here, and often that means fireworks, thunderstorms, and other loud noises that can make your pets anxious. In this episode, Carter Easler shares some of his best tips for helping dogs with their fear of loud noises, both by calming them down in the moment and by training them to not be so afraid in the future. Carter also talks about some of the most common remedies pet parents tend to use for dogs with firework anxiety and other noise anxiety — like Benadryl and thunder jackets — and explains why CBD, herbs, and adaptogens are a better option. 
Episode Recap:
21% of dogs and 36% of cats showed fear in response to fireworks (1:22)

Does CBD help dogs with noise anxiety? (4:46)

Herbs and adaptogens like lavender, chamomile and ashwagandha can also help (7:19)

Use the products consistently for best results (9:35) 

Many pets will run off when they get scared (11:36)

Can you condition puppies to not fear loud noises? (13:49)

Can I give a dog Benadryl for fireworks or noise anxiety? (17:14)

CBD doesn't just get rid of fear, it helps to expel negative memories (18:37)

Do thunder vests actually work? (20:35)

How much CBD to give your dog, and when to give it (22:06)

When dogs are scared, they usually won't eat (24:40)
Episode Resources:
Note: Like all discount codes, these don't last furever!
Follow Your Natural Dog on Facebook and Instagram and if you want to see what Angie is up to, follow her here: Facebook 
About Angela Ardolino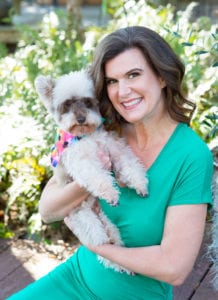 Angela Ardolino is a holistic pet expert who has been caring for animals for over 20 years. She operates a rescue farm, Fire Flake Farm, in Florida. In addition, she owns Beautify the Beast,  a natural pet salon and shop. Moreover, Angela got her certificate in Medical Cannabis Biology and Therapeutic use from the University of Vermont School of Medicine. Next, she founded CBD Dog Health to provide high quality, all-natural medical cannabis products designed specifically for pets and MycoDog Mushroom Tinctures for dogs. 
Accordingly, she uses Full Spectrum Hemp Extract on all her pets at her rescue farm every day since 2016. Angela has five dogs. Odie a 15-year-old mini-schnauzer, Nina a 9-year-old Doberman. Jolene a 9-year-old mutt, Maza a 9-year-old mutt, and Rhemi a 9-year-old poodle. In addition, she has 4-10 more any time she is fostering or boarding. She is a member of the Society of Cannabis Clinicians and the Veterinary Cannabis Association. In fact, Angela has educated hundreds of medical doctors and veterinarians on the therapeutic uses of medical cannabis on animals.
About Carter Easler
Father of a bulldog, Moo, Carter is a life-long animal lover from Toronto, Canada currently residing in Brooklyn, NY. Growing up in a family of veterinarians, he grew up surrounded by animals. He had dogs, cats, rodents, reptiles — you name it, and Carter probably rescued it. Carter's passion for cannabis activism started when he was in high school. After learning about the senseless prohibition and incredible diversity of cannabis's utility, he was inspired to get involved. When Carter met Angela, he was excited to learn that he could combine his passions: animals and cannabis. Carter now travels North America to educate pet parents, retailers, and veterinarians about CBD. He is excited to bring his passion for pets to CBD Dog Health.