Neurological Effects of Music on Pets with Lisa Spector on Your Natural Dog Podcast
As "The Pet Calming Maestro," Lisa Spector creates beautiful piano music that helps animals feel calm. In this episode of Your Natural Dog with Angela Ardolino, Lisa joins me and shares her incredible story with us. She shares how music is changing the lives of dogs in shelters across the U.S., and also breaks down the specific characteristics to look for when choosing music to play for your pets, to ensure maximum calmness.
Episode Recap:
Hear a sample of Lisa's music for dogs (0:37)

Lisa discovered that classical music could calm both kids and dogs (3:05)

Look for slow tempo music with instruments that use lower frequencies, like piano, guitar, cello, or harp (6:27)

Calmer dogs get adopted faster, so music can change a shelter dog's future (8:05)

How Lisa turned a traumatic accident into an opportunity (15:59)

A message from Lisa's dog, Gina (20:14)

Lisa created a meditative podcast for dogs and their owners (21:32)

How do I get started using CBD for my dog with arthritis? (24:16)
Resources:
About Angela Ardolino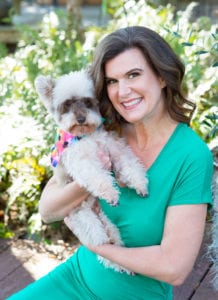 Angela Ardolino is a holistic pet expert who has been caring for animals for over 20 years. She operates a rescue farm, Fire Flake Farm, in Florida. In addition, she owns Beautify the Beast,  a natural pet salon and shop. Moreover, Angela got her certificate in Medical Cannabis Biology and Therapeutic use from the University of Vermont School of Medicine. Next, she founded CBD Dog Health to provide high quality, all-natural medical cannabis products designed specifically for pets. 
Accordingly, she uses Full Spectrum Hemp Extract on all her pets at her rescue farm every day since 2016. Angela has five dogs. Odie a 12-year-old mini-schnauzer, Nina an 8-year-old Doberman. Jolene a 7-year-old mutt, Maza a 7-year-old mutt, and Rhemi an 8-year-old poodle. In addition, she has 4-10 more any time she is fostering or boarding. She is a member of the Society of Cannabis Clinicians and the Veterinary Cannabis Association. In fact, Angela has educated hundreds of medical doctors and veterinarians on the therapeutic uses of medical cannabis on animals.
About Lisa Spector
In 2017, after 10 years of creating music to relieve pet anxiety, NPR called Lisa Spector 'The Pet Calming Maestro'. "While I didn't graduate from Juilliard to perform for dogs and cats, it warms my heart and feeds my soul to use my music talents to help improve the lives of our beloved pets." Lisa's piano playing is currently soothing anxiety in dogs in over 1,500 shelters and rescue organizations worldwide. The "Music in Shelters" program was inspired by her volunteer work with Peninsula Humane Society &  SPCA in The San Francisco Bay Area. As co-founder of Through a Dog's Ear and the pianist on the music series, she's appeared on the CBS Early Show, NPR, and CBS Australia, and is honored to be the only classical pianist to reach Billboard's Classical Top 20 Chart with pet music.