Osteosarcoma in Dogs: How Holistic Medicine Helped My Doberman
In 2020, my beloved doberman Nina, was diagnosed with canine Osteosarcoma at the age of 8. It is the most common type of bone cancer in dogs, and can affect 1 in every 4 large breed dogs. Unfortunately Osteosarcoma in dogs is highly aggressive and usually proves fatal within 4 months of diagnosis. 
While Nina is no longer with us, passing 26 months post diagnosis, she was beating all records as the longest living doberman with osteosarcoma that was treated holistically, with the use of medicinal mushroom extracts, cannabis extracts, and herbs.
22 Months Post Osteosarcoma Diagnosis: Nina's Amputation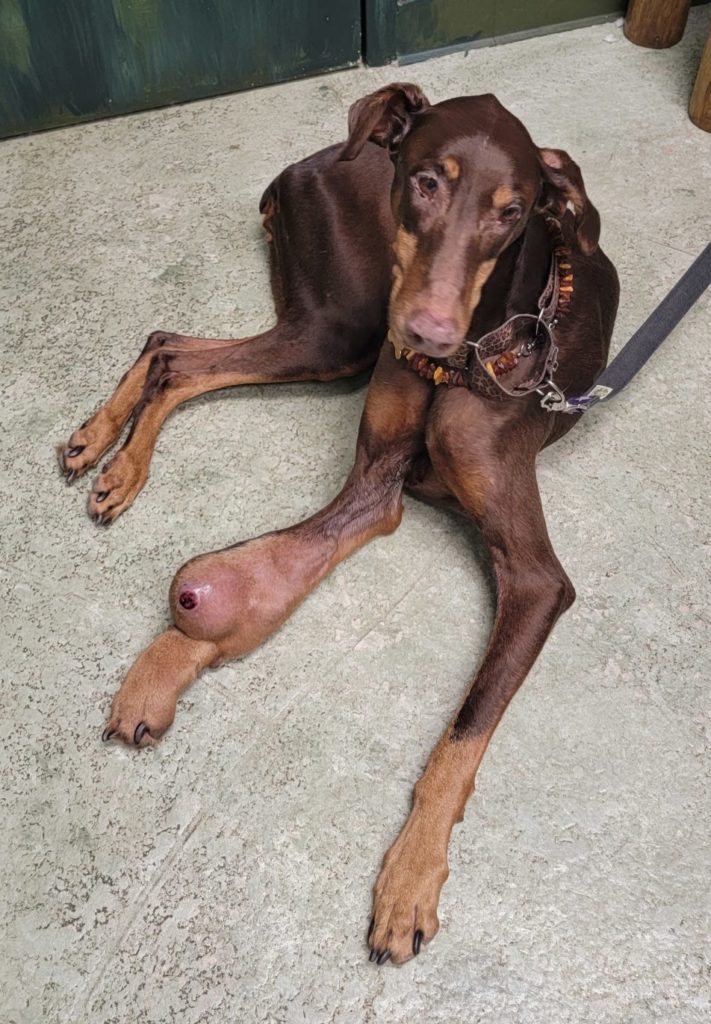 In my previous update, one year post diagnosis, Nina was not a good candidate for amputation. By this year however, circumstances had changed. By March 17th, 2022, (22 months post osteosarcoma diagnosis), we knew it was time for Nina's leg to be amputated.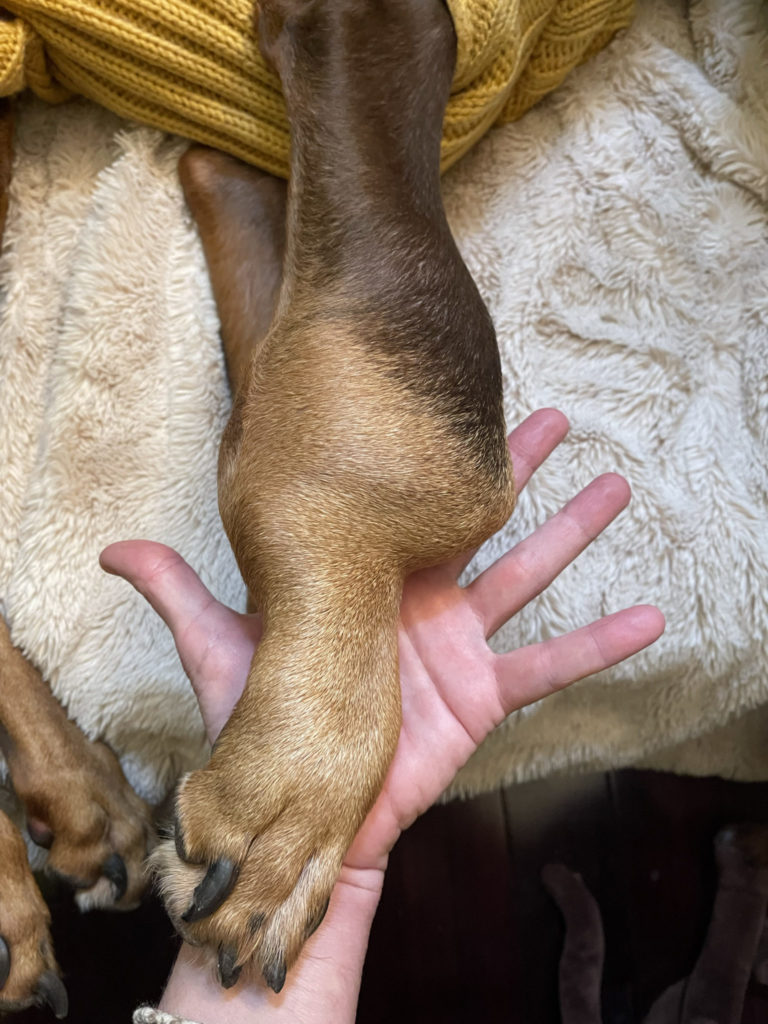 The tumor had grown to the size of a grapefruit, and was cutting off circulation to her foot. It had also started to seep fluids, through a small sore on the surface of the growth. This meant that we would once again run all the diagnostic tests again to see if, after 22 months, the cancer had metastasized. 
We brought Nina to Dr. Marlene Siegel for the amputation, as thankfully she is located only 5 miles from our farm. Dr. Siegel also offered a number of diagnostic tests, so that we could see exactly what the cancer was or was not doing inside her body.  
I was on pins and needles waiting for the results of all these tests.  
Nina's Results – NO Metastasis at 22 Months Post Canine Osteosarcoma Diagnosis
The results were what we'd hoped for! No Metastasis! Once again there was NO SPREAD of cancer anywhere else in her body.
Even her blood work looked normal. See her full VDI Cancer Screening and Full Panel Blood Test – Which showed low Vitamin D & B12, and high Mercury levels. Although many markers came in announcing the warning that something was off, there was still no metastasis. 
Here are Nina's X-rays, showing no metastasis, no spread of cancer 22 months post diagnosis of osteosarcoma in dogs: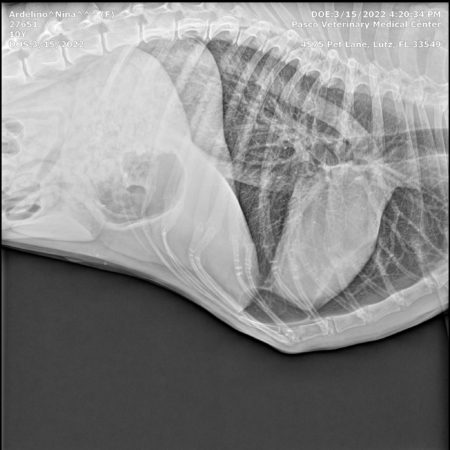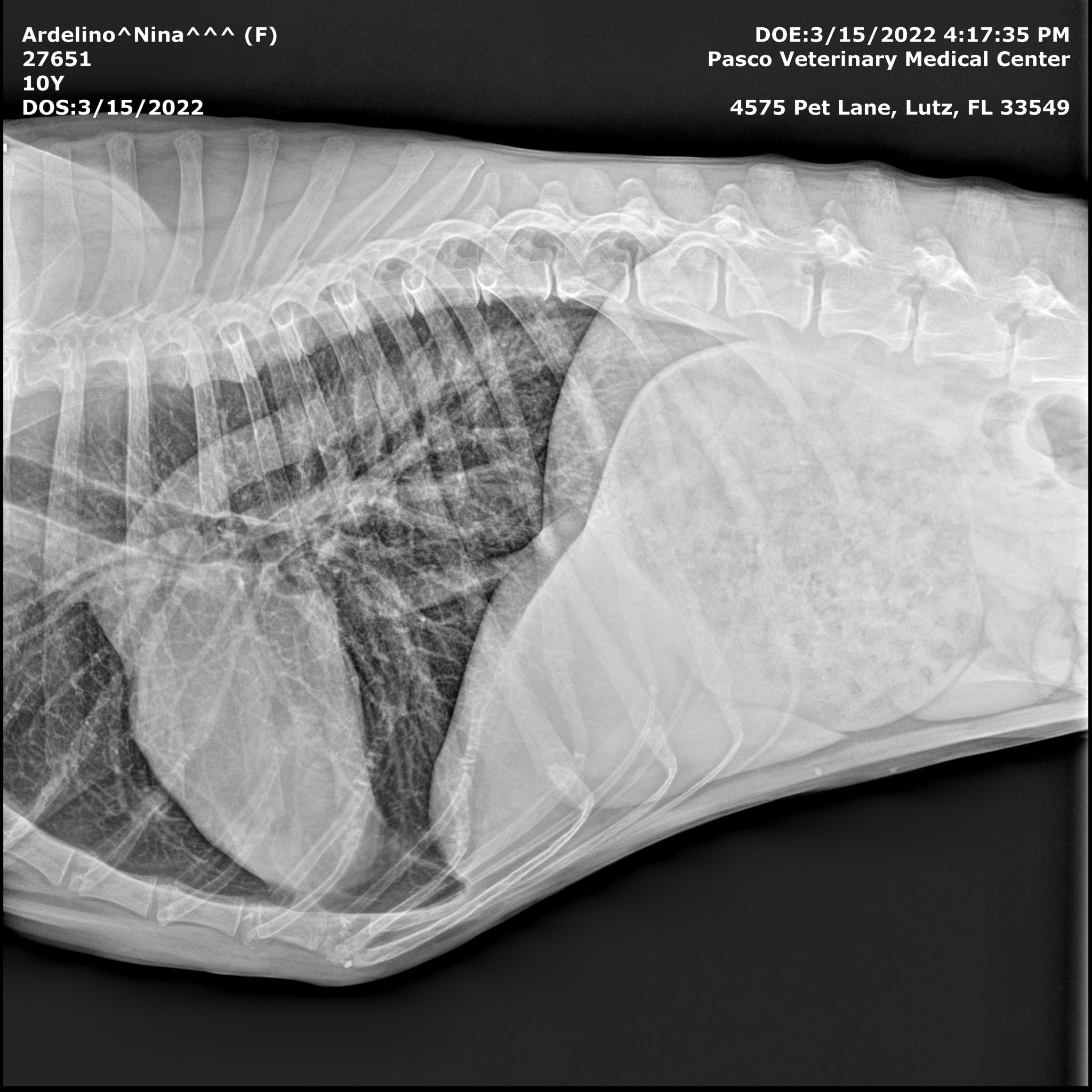 Nina: Post Amputation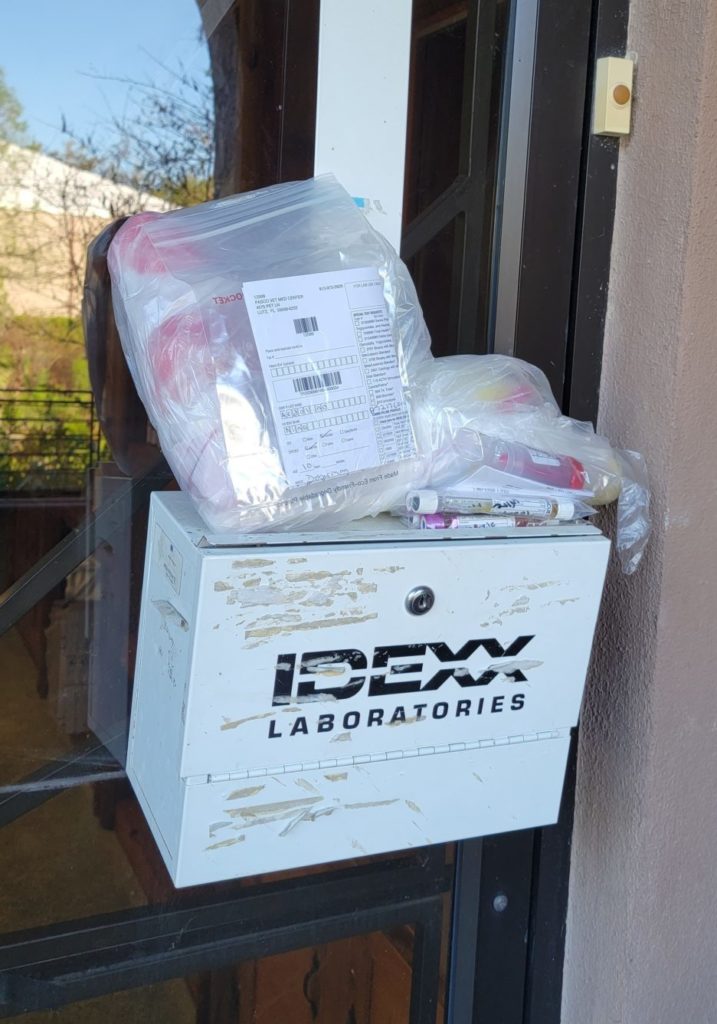 After amputating her leg, Nina had NO signs of cancer anywhere. 
Dr. Sarah Urban, Nina's holistic vet said,
"It's remarkable that Nina's tumor has stayed localized to her wrist and still hasn't spread after 22 months, I've never seen anything like this and it helps me understand the power of cannabis, and adaptogens."
In addition, we sent the amputated tumor leg for Histology, which proved that Nina indeed had Osteosarcoma. (side note: I spent the extra $500 to do this, so that I could prove to all of those who questioned whether she actually had canine osteosarcoma or something else.)
Nina's Holistic Protocol for Osteosarcoma in Dogs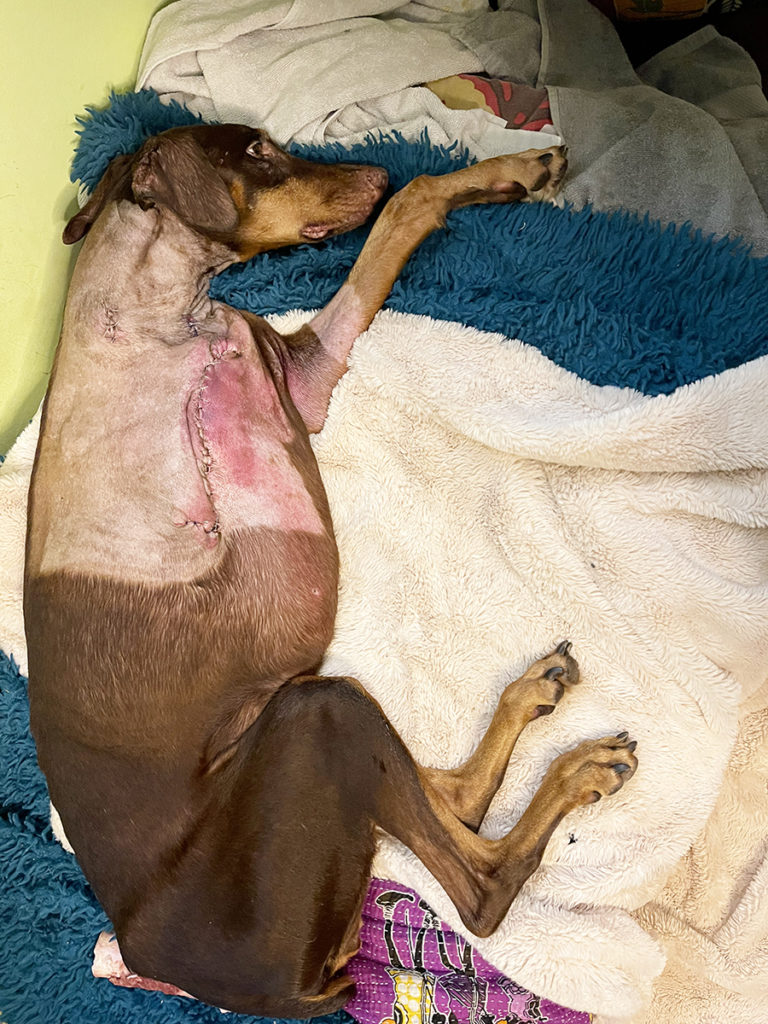 After Nina's amputation, the focus has been on keeping her cancer free and supporting her naturally as she heals after her journey with osteosarcoma in dogs.
Nina is considered geriatric at 10 years old, so this makes her even more special and in need of the best holistic support for her healing.
We did two weeks of Vitamin Therapy (Vitamin C, Curcumin, Glutathione, DMSO, B15, B17) with Dr. Siegel. After her week of antibiotics and the anesthesia from the surgery, we also did a Liver Cleanse and Fecal Transplant to help reset her gut and support her liver function. 
We intend to follow the same holistic protocol for osteosarcoma in dogs that has kept the cancer from spreading for two years. 
Related: Nina's Protocol for Osteosarcoma in Dogs 
The Power of Holistic Plant and Mushroom Medicine for Bone Cancer in Dogs
As I mentioned, osteosarcomas are highly aggressive and can quickly spread to vital organs and become fatal, which makes early detection vital. Unfortunately most cases of osteosarcoma in dogs have already metastasized at the time of diagnosis.
Just another reason catching cancer early is so important, particularly for osteosarcoma in dogs or other bone cancer in dogs.  
To be proactive, holistic supplements can support your pet's immune system. Holistic support is particularly important as our pets age. Start giving them at least 40mg of CBD from a Full Spectrum Hemp Extract, medicinal mushroom extracts and MycoDog medicinal mushroom extracts for dogs, full of beneficial mushroom extracts, like Lion's Mane, Reishi, Turkey Tail, Maitake, Shiitake, Red Belted Conk, Chaga, Cordyceps, and Artist Conk to help with ailments like inflammation, pain, and cancer as they age. 
Cancer has 12 pathways. Cannabis alone interacts with —either by activating, deactivating or blocking —8 of those pathways that help the cancer cells to form a tumor, a blood supply and then to metastasize to other organs and around the body. For instance, in osteosarcoma in dogs, the cancer spreads to the lungs and that is what kills the afflicted animal, not the initial bone tumor. 
Every year, there is new research and more case studies showing the promising effects of using cannabis, medicinal mushrooms and diet to help our pets' many ailments. Isn't it messed up that scientists and researchers took the time to prove this, but no one knows about it? Unfortunately, most conventional veterinarians don't discuss holistic options with pet parents. They'd rather sell you a pharmaceutical drug (which interacts with only one pathway), or chemotherapy (which kills healthy cells along with the cancer cells), or radiation, or who knows what else, rather than natural holistic alternatives. 
Rather than only interacting with one pathway, like pharmaceuticals do, by combining cannabis, medicinal mushrooms, and other adaptogens, you can interact with ALL the pathways. Additionally, cannabis sometimes has more than one type of interaction in a single pathway. For instance, the proteins of the plant may be interacting in one way, while the cannabinoids and terpenes are interacting in another way—whether it be activating, deactivating or blocking activity. 
Every pharmaceutical drug is based on something found in nature, so why not turn to nature first. 
Finding a Holistic or Integrative Veterinarian for Your Dog
So if your pet gets the diagnosis of canine osteosarcoma, bone cancer, or another cancer diagnosis, remember there are holistic tools that can help, and cause no harm. Finding a holistic veterinarian is difficult, and finding an integrative oncologist is even harder. 
Integrative Veterinarian Oncologists:
Dr. Trina Hazzah, also Cannabis expert and uses cannabis first as a therapy for cancer. Here's an interview we did together. 
Dr. Kendra Pope, specializes in Chinese Medicine and has knowledge and experience using cannabis/hemp as medicine. Here's Dr. Pope on Your Natural Dog Podcast. 
Final Thoughts
This has been one of the most incredible journeys of my life. I've extended my dog's life 2 years past what was expected and I did it by holistically supporting her body's immune system with real fresh food and plant medicine!! So I'm on a mission to empower pet parents to take control of their pets' health—even with a cancer diagnosis. 
For those who may not know, I travel and speak all over about the benefits of plant medicine, concentrating on cannabis, other adaptogens and medicinal mushrooms. Next, I'm going to focus on educating people everywhere about what these amazing botanicals can do to help us fight off the BIG C!
About Angela Ardolino
Angela Ardolino is a holistic pet expert who has been caring for animals for over 20 years. Angela owns and operates Fire Flake Farm, her animal rescue farm, as well as two locations of a natural pet salon and shop, Beautify the Beast. She's also the founder of CBD Dog Health, which offers high quality, all-natural cannabis health and wellness products, and founder of MycoDog, a sustainable mushroom tincture line designed for dogs.
To see Angela on her rescue farm today, surrounded by animals, is to truly see her in her element. Looking at this furry, joyful family you would never suspect that Angela and her pets were once full of aches, pains and anxiety. Angela is the mother to Odie (15-year-old mini-schnauzer), Nina (10-year-old Doberman), Jolene (9-year-old mutt), Maza (9-year-old mutt), Rhemi (10-year-old poodle), multiple ducks, roosters, chickens and geese, plus pigs Ellie and Penelope, Brenda the one-legged pigeon, and the many dogs that she fosters from time-to-time at Fire Flake Farm.