Pain Management For Dogs with Dr. Jennifer Johnson
Dr. Jennifer Johnson, VMD, appeared on 'It's a Dog's Life' to provide insight regarding pain management in our dogs. She serves on the board, as the President, of the International Veterinary Academy of Pain Management. Dr. Johnson continues to practice in Arizona, but is semi-retired at this point in her career. Despite the semi-retired status, she continues to practice what she loves and share her knowledge with others.
About IVAPM
IVAPM, or the International Veterinary Academy of Pain Management, was originally known as the Companion Animal Pain Management Consortium. The organization was founded in 2001 by Michael McFarland, Bill Tranquilli, Jamie Gaynor, and Charlie Short. The organization was originally led by Pete Hellyer. Shortly after the organization was founded, the organization changed its name to the Academy of Pain Management Interest Group with the support of Pfizer Animal Health. The organization officially became the IVAPM in 2003. 
According to Dr. Jennifer Johnson, "the organization has been around for a little while. It was first a group of pain management pioneers mainly focused in veterinary anesthesia. They realized they needed to create an organization to discuss chronic pain because no one was really discussing this at the time. Of course, there has always been big pharma, but there have been a lot of developments in rehabilitation, acupuncture, and chiropractic, along with CBD, that are showing promising evidence."
She continued to state "The IVAPM really has two essential tasks. The first is to educate veterinarians and veterinary staff about pain management and how to treat pain holistically. The other is to educate pet owners. Putting these two together, in addition to being an international organization, is great because we forget that we are only in the infancy stage of animal pain management in other countries. We started a campaign that was about six years old for September as Animal Pain Awareness Month; that coordinated well with Human Pain Awareness Month also taking place in September."
Why She Started
There's always a starting point in a breakthrough career. For Dr. Jennifer Johnson, her interest in pain management started because she was able to determine, in many cases, a diagnosis. But, she wasn't able to determine the best method for pain management in some cases while her clients were undergoing tests to figure out what the actual diagnosis or source of pain was.
In 'A Dog's Life,' Dr. Johnson stated "over time, I learned more and gained my certification as a pain practitioner. I started to use things like lasers and pulsed electromagnetic fields. I was becoming extremely interested in the idea of how animals could tell me they are actually in pain. That's actually one of the main questions I am asked; how do you know if an animal is in pain. There are two problems here. The first is actually convincing someone you know their animal is in pain. The second is; what way could the animal let you know? 
She went on to say "there is a lot of research going on with assessing pain like pain scoring, facial expressions, and use of questionnaires in human medicine. We can gain some type of picture of pain from these." The question is; how do we get our animals to let us know they are in pain? This is where research is headed. 
Join IVAPM
By joining IVAPM, you can become a part of an international mission to discover the best methods for pain management in animals. As a member of IVAPM, you gain access to their exclusive journal, a members-only Facebook group, and can become a part of the discussion of pain management where your insights will be taken into great consideration. Click here to learn more about joining IVAPM.
Final Thoughts
The world of pain management is a relatively new concept with emerging advances in science, technology, and holistic approaches to not only making us feel better, but making our animals feel better as well. Our animals instinctively attempt not to tell us they aren't feeling well. It's only when they are crippled with pain we will begin to notice. At this point, it's past the time they should have been provided some sort of pain management. Joining veterinarians, like Dr. Jennifer Johnson, is critical in the mission to advancing pain management techniques.
About Angela Ardolino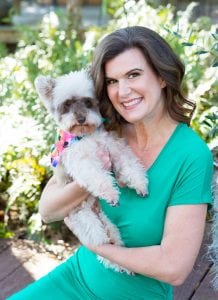 Angela Ardolino is a holistic pet expert who has been caring for animals for over 20 years and operates a rescue farm, Fire Flake Farm, in Florida. She is also the owner of  Beautify the Beast,  a natural pet salon and shop. After getting her certificate in Medical Cannabis Biology and Therapeutic use from the University of Vermont School of Medicine, she founded CBD Dog Health to provide high quality, all-natural medical cannabis products designed specifically for pets. Angela has seven dogs, Odie a 12-year-old mini-schnauzer, Nina an 8-year-old Doberman. Jolene a 7-year-old mutt, Maza a 7-year-old mutt, Rhemi an 8-year-old poodle, Potato a 15-year-old shih-tzu, and Miss Daisie a 15-year-old black lab, plus 4-10 more at any time she is fostering or boarding. She uses Full Spectrum Hemp Extract on all her pets at her rescue farm every day, and has since 2016. She is a member of the Society of Cannabis Clinicians, the Veterinary Cannabis Association and has trained hundreds medical doctors and veterinarians about the therapeutic uses of medical cannabis on animals. Visit www.angelaardolino.com for more information.
Dr. Jennifer Johnson
Dr. Jennifer Johnson, VMD, serves on the board, as the President, of the International Veterinary Academy of Pain Management. Dr. Johnson continues to practice in Arizona, but is semi-retired at this point in her career. Despite the semi-retired status, she continues to practice what she loves and share her knowledge with others. According to Dr. Jennifer Johnson, "the organization has been around for a little while. It was first a group of pain management pioneers mainly focused in veterinary anesthesia. They realized they needed to create an organization to discuss chronic pain because no one was really discussing this at the time. Of course, there has always been big pharma, but there have been a lot of developments in rehabilitation, acupuncture, and chiropractic, along with CBD, that are showing promising evidence."