What Shots Do Your Dogs Need? with Dr. Laurie Coger on Your Natural Dog Podcast
When it comes to vaccinating your dogs, too much of a good thing can be incredibly harmful. In this episode, Dr. Laurie Coger breaks down the basics of vaccinations, including the difference between core and lifestyle vaccines, how often to vaccinate, and how to know when your pet has built up the right level of immunity. She also shares a preview of The Healthy Dog Expo, an amazing event in Albany this March where pet parents can connect with holistic experts. 
Episode Recap:
A vaccine stimulates the immune system to recognize a germ or disease and respond to it with antibodies (3:17)

There are core vaccines that every dog should receive, but others depend on where you live and what your dog's lifestyle looks like (5:02)

A titer can show the antibody levels your dog has (9:52)

Vaccines contain ingredients that are toxic to dogs if given too often (11:45)

Keep an eye out for adverse reactions after vaccinations (15:00)

Most vets are doing the best they can with what they know (17:57)

How to help detoxify after vaccinations (19:34)

Attend The Healthy Dog Expo to find your tribe of like minded pet owners (21:41)

How to learn more about holistic pet health (27:52)
Resources:
About Angela Ardolino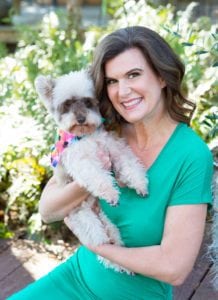 Angela Ardolino is a holistic pet expert who has been caring for animals for over 20 years. Angela owns and operates Fire Flake Farm, her animal rescue farm, as well as two locations of a natural pet salon and shop, Beautify the Beast. She's also the founder of CBD Dog Health, which offers high quality, all-natural cannabis health and wellness products. As well as the founder of MycoDog, a sustainable mushroom tincture line designed for dogs.
To see Angela on her rescue farm today, surrounded by animals, is to truly see her in her element. Looking at this furry, joyful family you would never suspect that Angela and her pets were once full of aches, pains and anxiety. Angela is the mother to Odie (15-year-old mini-schnauzer), Nina (10-year-old Doberman), Jolene (9-year-old mutt), Maza (9-year-old mutt), Rhemi (10-year-old poodle), multiple ducks, roosters, chickens and geese, plus pigs Ellie and Penelope, Brenda the one-legged pigeon, and the many dogs that she fosters from time-to-time at Fire Flake Farm.
About Dr. Laurie Coger
Dr. Coger is an integrative and functional medicine veterinarian, dog owner, trainer, and breeder. Her mission is to guide owners down the natural dog care path, helping them to become educated and empowered advocates for their best friend's health. She is an honors graduate of Cornell University's College of Agriculture & Life Sciences, majoring in Animal Science, with a special interest and advanced training in nutrition. She received her DVM degree from Cornell's College of Veterinary Medicine. Her "real world" experiences in veterinary hospitals both large and small, housecall practice, and shelter medicine have broadened her skills and knowledge. One of her favorite job duties is as resident veterinarian for Canine Camp Getaway, the country's ultimate dog lovers' vacation. She is the founder of the Healthy Dog Expo, the nation's foremost dog natural dog health educational event. She also works with natural dog health companies in design and development of products and services.

Dr. Coger's practice and dog care philosophy emphasize natural methods. She regularly integrates chiropractic, low level laser, herbal, nutritional, and physical therapy techniques into her treatment plans. She is a staunch advocate of raw, natural diets. Her first book, "Vaccines Explained: The Wholistic Vet's Guide to Vaccinating Your Dog" is currently being updated. She is well known in the media, having been featured in USA Today, Pet360, PetMD, and numerous nationally known blogs and websites. She has been nominated for a Dog Writers' Association of America award for her work in the Australian Shepherd Journal.