Fuck Cancer! (and the conventional therapies that come with it)
If I sound angry, it's because I lost my first beloved dog when she was only 7—because I did everything my conventional veterinarian told me to do. Even when she got sick, I still did everything they told me, but 9 months later she was dead, and I was $14K in debt. That happened over 15 years ago and since then I've learned everything I possibly could about holistic, integrative, Chinese and cannabis medicine and treatments.  I discovered that thousands of pet parents are suffering from the same experience I had following conventional medicine. So, I'm here to share my knowledge and experience with you because I'll never make that mistake again.
Today, I'm dealing with my beloved Doberman, Nina, and her diagnosis of Osteosarcoma (OS). OS is a very aggressive and painful bone cancer that affects 25% of large breed dogs.
Facts about Osteosarcoma
Following diagnosis of OS in dogs, life expectancy can be summarized as follows:
Without chemotherapy average survival time is approximately two months. This is primarily determined by the discomfort associated with the primary tumor.

If amputation is performed the average survival time is increased to six and a half months, with 2% of patients alive after two years.

Patients receiving palliative radiation and chemotherapy have an average life expectancy of six months.

Amputation

with

chemotherapy makes the average survival time just a little less than one year, with 20% of dogs still enjoying a good quality of life two years after surgery.

Dogs undergoing limb-conserving surgery and chemotherapy experience the same survival time as dogs having amputation and chemotherapy.
So, I ask this, why would I spend thousands of dollars on amputation ($2-3K), chemotherapy ($1-3K), radiation ($2-7K), medications ($1K), and vet bills ($2K-$10K) when it doesn't help my dog? As a matter of fact, it hurts my dog! 

Nina's side view of her leg with osteosarcoma
Cannabis Kills Cancer
Homeopathy,Traditional Chinese Medicine, and medicinal cannabis help my dog without harmful side effects, stressful procedures, trips to the vet—and all at a much lower cost.
Research has shown CBD can cause cell death in cancer cells and stop tumor growth. This prevents metastasis or the spread of cancer. For dogs who are experiencing inadequate appetite, CBD can also help by increasing a dog's appetite, keeping the immune system in better shape.
Recently, the first canine-specific CBD and cancer study was published proving once again all the possibilities cannabis has against fighting cancer.
Another common occurrence in cancer cells is angiogenesis. Angiogenesis is the ability of cancer to create its own network of blood vessels within the body. CBD (and THC) can prevent the development of blood vessels found in tumors, therefore blocking their source of nutrition, essentially starving the cancer cells to death.
Dr. Trina Hazzah, Director of Oncology at the VCA in Los Angeles, says she turns to medical cannabis first for treatment of cancer, and if needed will add other therapies like chemotherapy and immunotherapy.
Dr. Zac Pilossoph, The cannabis vet, consistently preaches to insightful audiences on the fact that the therapeutic benefit-to-risk ratio cannabis provides, in comparison to conventional cancer treatment options, is both legitimate and staggering. "When thousands of studies across the world prove that cannabis in its natural form provides multiple mechanisms of anti-neoplastic and anti-metastatic qualities, wouldn't it make sense to immediately begin considering it as a first-tier option in our pets? Especially knowing while its side-effect profile is minute compared to all other means. From my position, the continued hesitation to consider and incorporate cannabis makes absolutely no sense whatsoever, but it is where we currently stand. I am optimistic that opinions will continue to evolve though and truth will win out".
Dr. Judy Jasek, a holistic veterinarian from Colorado, says she sees much better success in dogs who haven't had conventional therapies like chemo and radiation. "Patients who've had these treatments go downhill faster because chemo destroys the immune system. There are always cancer cells that escape chemo or radiation … and then they come back with a vengeance."
Chemo offers good short-term results but bad long-term outcomes because it kills off healthy cells and suppresses the immune system. So why not offer good short-term results with NO bad outcomes, period.
CBD Can Improve Bone Health and Heal Fractures
Besides the many veterinarians using Full Spectrum hemp and cannabis with great success, there's also a steady stream of research studies coming in on the treatment of OS and bone cancers.
Here's a few:
Research

shows that CBD is effective for treating bone conditions that include spinal cord injury, disc degeneration, post-surgical pain, and arthritic pain.

Full Spectrum Hemp Extract (

FSHE) also promotes the

healing of bones after fractures

while increasing bone density and preventing bone mineral loss. 

Studies show

that

CBD

boosts collagen production and promotes fracture healing.

CBD stimulates the expression of mRNA in bone cells

that encode a specific enzyme linked to collagen stabilization and crosslinking and stabilization. Researchers used infrared spectroscopy that showed that CBD enhanced the collagen crosslink ratio that led to fracture healing.

In Israel,

s

cientists have found that

CBD enhanced fracture healing

significantly in animal models. The study, featured in the Journal of Bone and Mineral Research, was conducted by researchers at the Hebrew University of Jerusalem and Tel Aviv University. It was found that cannabidiol promoted thighbone (mid-femoral) fracture healing in rats. The researchers

found

that CBD made bones stronger while healing and promoted the collagenous matrix maturation, which, in turn, enhanced bone mineralization. Once the bones are treated using CBD, they become tougher and harder to break, according to the researchers

A 2009 study

featured in

International Immunopharmacology

sought to explore the efficacy of 5 mgs of CBD in treating periodontitis in rats. Periodontitis is a chronic gum infection that leads to gum inflammation, tooth loss, and bone destruction.  Researchers administered CBD for a month and analyzed alveolar bone loss. They found that in animals that were given 5 milligrams of CBD, there was reduced bone loss and inflammation.

Cannabinoid receptors influence bone metabolism. It was found that bone absorption in laboratory experiments was reduced by CBD.
Nina's Supposed to be Dead
It's been eight months since diagnosis, and my 8-year-old Nina is thriving on a strict treatment regimen including Full Spectrum Hemp Extract (FSHE), Full Cannabis extract with high THC, medicinal mushrooms for dogs, and diet. She's already breaking records, so I want to share what I did with you.
Even dogs who just use a FSHE and change their diet beat the odds. Like Sugar, a 13.5-year-old white German Shepard who is still going strong 9 months after diagnosis, using 80 mg per day of a FHSE (Heal, by CBD DOG Health).
This is because cannabis is an immune system booster, and THC kills cancer cells while CBD slows the spread and growth.  All of this happens while providing pain relief and stress relief. 
Along with a lot of love, good sleep and exercise, here's what I did with Nina, under the supervision of Dr. Zac Pilossoph the cannabis veterinarian.
We fed her a Ketogenic Diet of  raw or gently cooked  diet (pork, fish, duck, rabbit) and followed this holistic protocol for cancer.
We also incorporate Acupuncture and Chiropractic treatments every other month.  These adjustments help tremendously since she is walking of balance, now that she is favoring her right leg.
We just started learning more about the amazing benefits of Ozone therapy, and Dr. Zac Pilossoph and I have added this to Nina's regimen on February 16, 2021 with the help of Dr. Marlene Siegel.
Bottom Line
Creating a non-toxic environment for your pet will only help your entire family stay healthy.  So, avoid pesticides, room fresheners, toxic candles, cleaners, fertilizer, that pollute your home and yard.  We also keep Nina free of any toxin entering her body and she  hasn't and doesn't receive vaccines anymore, no other medications, no flea and tick preventatives (wears and Amber Necklace). 
So, whether you're looking for a more holistic approach for your dog's cancer, or you simply can't afford what your conventional vet has offered you, I hope this give you hope that there are alternatives that help and exist in the natural world.  Support the immune system, create a non-toxic environment, and trust your gut – and healing will begin. 
Nina Today
October 2021: I've posted an update on how Nina's doing today, now that it's been over a year since her diagnosis. Read more about Nina: The Super Doberman who is slaying Osteosarcoma Naturally! in my recent update, "How I Kept My Dog's Cancer From Spreading". 
May 2022, TWO YEARS LATER! Check out my most recent update on Nina.
About Angela Ardolino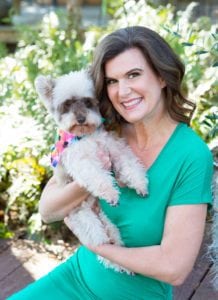 Angela Ardolino is a holistic pet expert who has been caring for animals for over 20 years and operates a rescue farm, Fire Flake Farm, in Florida. She is also the owner of  Beautify the Beast,  a natural pet salon and shop. After getting her certificate in Medical Cannabis Biology and Therapeutic use from the University of Vermont School of Medicine, she founded CBD Dog Health to provide high quality, all-natural medical cannabis products designed specifically for pets. Angela has seven dogs, Odie a 12-year-old mini-schnauzer, Nina an 8-year-old Doberman. Jolene a 7-year-old mutt, Maza a 7-year-old mutt, Rhemi an 8-year-old poodle, Potato a 15-year-old shih-tzu, and Miss Daisie a 15-year-old black lab, plus 4-10 more at any time she is fostering or boarding. She uses Full Spectrum Hemp Extract on all her pets at her rescue farm every day, and has since 2016. She is a member of the Society of Cannabis Clinicians, the Veterinary Cannabis Association and has trained hundreds medical doctors and veterinarians about the therapeutic uses of medical cannabis on animals. Visit www.angelaardolino.com for more information.
Sources: