Is CBD Right For My Pet?
If you're anything like me, chances are you're reading the same book I am this week, the New York Times #1 Best Seller, The Forever Dog by Rodney Habib and Dr. Karen Shaw Becker. I was excited, as so many other holistic experts were, about the release of this book to help educate pet parents everywhere on how to help their dogs live their best life. Both of these holistic experts have joined me in the past, to discuss pet wellness, supplements, diet, and CBD for pets. I did a special Facebook Live edition of The Rodney Report with Rodney Habib, where we discussed the benefits of full spectrum hemp CBD oil for dogs and the medical research supporting it.
On a special edition of Planet Paws, Rodney and Dr. Becker also recommended CBD Dog Health, as a trusted CBD brand, and specifically recommended CBD Dog Health's HEAL: 1100mg Full Spectrum Hemp CBD Oil for Dogs as well as our REMEDY: Full Spectrum Hemp CBD Salve for Dogs.
In The Forever Dog, Rodney and Dr. Becker included a quick introduction on CBD for pets in their chapter on supplements for your dog's wellness. The book lists some of the known benefits of CBD for pets, including anti-inflammatory properties, pain management, calming the nervous system, as well as aiding with anxiety and even cancer. However, Rodney and Dr. Becker also caution pet parents that CBD products, in addition to being subject to quality control and potency issues, are not a cure-all. After reading this best selling book, I knew many pet parents were likely left wondering, 'Is CBD right for my pet?'
Which is why I created this guide, to help pet parents decide if CBD is the right supplement for their pet, as well as sharing my tips in choosing the safest and highest quality CBD for pets.
CBD for Pets
CBD, or Cannabidiol, is the cannabis plant's second most abundant compound, after THC. CBD has recently gained popularity as a natural alternative to pharmaceuticals, which are notorious for their negative side effects. While it is not a panacea, or cure-all, CBD has numerous benefits and interacts with your pet's endocannabinoid system to restore balance to your pet's body. Among other ailments, CBD has been shown to help with chronic pain, anxiety, seizures, inflammation, cancer, autoimmune disease, and neurological conditions in pets, according to research.
There are several important factors when choosing CBD for your pet. such as making sure your CBD product is formulated with a Full Spectrum Hemp Extract, extracted using CO2 extraction methods, from organic, domestically grown hemp, and of course third party lab testing, with a COA to prove purity and potency. 
What is Full Spectrum and Why is it Important?
Full Spectrum means that all of the naturally occurring bioactive components in a hemp extract have been left in their natural state. The cannabinoids and terpenes all work together to boost each other, which is one of the main reasons full spectrum is so crucial. This action is known as the Entourage Effect, and it allows multiple cannabinoids to interact in order to obtain maximal benefits and results. The advantages of the plant are lessened and the prevalence of negative effects increases when these synergistic chemicals are processed further.
Related: Full Spectrum VS Broad Spectrum: Why is Full Spectrum the best?
What is a COA? 
Unfortunately, the CBD for pets industry is still mostly unregulated. This means that no one, including the FDA, evaluates the labeling accuracy or safety of hemp CBD products sold in the United States. Some products have been discovered to have heavy metals, toxins or no CBD at all! As a result, we stress the importance of conducting thorough research before purchasing CBD for your pet. The only way to know for sure that the product you're buying is safe and includes cannabinoids like CBD and THC is to read the third-party Certificate of Analysis (COA). 
A certificate of analysis, or COA, for a CBD product is a document that contains lab results that show you exactly what's in the CBD product you're buying for your pet. This report will show you the exact amount of each cannabinoid in the product, including CBD and THC. A third-party lab should always issue a COA. That is, a business that is not linked with the CBD product's manufacturer. Check the logo and contact information on the paper to see if it's from a third party. You can also get in touch with the lab to confirm the COA results for your product.
Related: How to Read a Certificate of Analysis 
Is CBD Right For My Pet?
CBD is gaining recognition for its many reported health benefits, and recent research is revealing how it can help animals too. Studies are showing how CBD and the other cannabinoids in a Full Spectrum Hemp Extract may be able to help your pet, from managing pain to reducing seizure frequency. If your pet suffers from arthritis, chronic pain, anxiety, allergies, skin conditions, cancer, tumors, autoimmune disorders or seizures, CBD may be the right choice for your pet. 
CBD for Your Pet's Arthritis & Joint Pain
CBD is extremely effective at reducing arthritis and joint discomfort pain and inflammation. This is one of the most extensively explored aspects of cannabis treatment for pets. CBD, as well as other components contained in a full spectrum hemp extract including THC, CBC, CBG, and THCV, have been shown to reduce inflammation in the body.
The discomfort that our dogs experience in most cases of arthritis is caused by inflammation in their joints. We can address the origin of the problem while also preventing the pain by reducing inflammation.
In a research on dogs with osteoarthritis, Cornell University discovered that giving them 2 mg/kg of CBD twice a day helped them feel more comfortable and active. Dogs with osteoarthritis that were given consistent dosages of full-spectrum hemp extract improved significantly, according to a Baylor College of Medicine study.
NSAIDs are frequently prescribed by traditional veterinarians, however they can cause joint and soft tissue damage. They can harm your dog's liver and kidneys as well. CBD is a safe anti-inflammatory option that doesn't have the adverse side effects that medications often have.
Related: CBD for Dogs with Arthritis and Joint Pain
CBD for Your Pet's Seizures
Amazingly, CBD has been used to treat seizures in humans for years, with remarkable effectiveness in both animals and humans. CBD was patented as a neuroprotectant by the US government in 2003.
A new study looked at the influence of CBD on seizure frequency in 16 dogs over a short period of time. The frequency of seizures was reduced in 89 percent of dogs who took CBD in the clinical experiment, according to the researchers. There was also a link between the degree of seizure reduction and the level of CBD in the bloodstream.
Most conventional veterinarians prescribe anti-epileptic drugs like phenobarbital to treat epilepsy and seizures. One of the most serious side effects of phenobarbital is stress and liver damage, in addition to drowsiness, nausea, vomiting, and neurotoxicity in young animals.
Related: Can CBD Help Dogs with Seizures?
CBD for Your Pet's Cancer
According to research, CBD can help with cancer in a variety of ways. CBD has shown to not only have properties that are helpful against cancer, but it can also help your pet's quality of life. CBD and the other cannabinoids in a Full Spectrum Hemp Extract contain anti-nausea, pain-relieving, and immunomodulatory characteristics in addition to its anti-cancerous properties.
The first canine cancer-specific CBD study was published in 2020. According to researchers, CBD was discovered to help cause apoptosis (natural cell death) and autophagy (the clearing of damaged cell parts), as well as aiding in stopping cancer cells from spreading. 
According to research, CBD can:
To see how I use a FSHE and CBD for cancer, here's my protocol for Osteosarcoma, Lymphoma and for Mast Cell Tumors. It's now been 15 months since my doberman Nina's initial cancer diagnosis and Nina is still thriving thanks to her protocol.
Related: CBD Oil for Dogs with Cancer
CBD for Your Pet's Anxiety
CBD has been used to manage anxiety and depression in humans, and is a great natural alternative for your pets as well. Clinical studies have shown CBD can aid in the expulsion of aversive memories. CBD can also behave like serotonin by attaching to and activating serotonin receptors in the body. These serotonin receptors, also known as the "happy" hormone, are responsible for emotional stability.
According to a 2013 article in Neuropharmacology, CBD can help people and animals manage negative emotions associated with triggers like thunderstorms or fireworks. Additionally, CBD was found to help manage PTSD, as well as anxiety or panic disorders in people and animals. CBD also has a calming effect on the central nervous system, according to a 2019 study published in the Permanente Journal, and was found to be better tolerated than conventional psychiatric drugs.
Some conventional veterinarians recommend children's Benadryl, as a sedative for pet anxiety. It's crucial to remember, though, that this medication isn't intended for animals and can have adverse side effects. Benadryl, for example, can create stress for a dog's liver and kidneys, especially if those systems are already compromised.
Related: What Can I Give My Dog for Anxiety During Storms?
CBD for Your Pet's Cushing's Disease
Full spectrum CBD can benefit dogs with Cushing's Disease by restoring internal homeostasis, which it does by interacting with the body's endocannabinoid system. Hormonal imbalances, such as cortisol imbalances from the adrenal or pituitary glands, fall within this category. CBD can also slow the progression of tumors that cause Cushing's disease by preventing the formation of blood vessels that feed the tumor's growth.
Surgery to remove the tumor is the conventional treatment for dogs with Cushing's Disease. Hormone-regulating medicines may also be prescribed by veterinarians. However, surgery, especially in older dogs, can be intrusive and risky, and prescribed medications can have serious adverse impact.
Related: CBD for Cushing's Disease in Dogs 
CBD for Your Pet's Allergies
CBD is an ideal choice for pets with allergies because it reduces inflammation, regulates the immune system, and supports the gut, which houses 70% to 80% of the immune system. Additionally, CBD blocks the release of pro-inflammatory chemicals, which trigger allergy symptoms, according to a recent study. 
For dogs with allergies, conventional veterinarians frequently prescribe Apoquel or Benadryl. The way these drugs work is by suppressing your pet's immune system, which conceals the symptoms of an allergic reaction. Unfortunately, the longer your pet is on an immunosuppressive medication, the more likely they are to develop major side effects and health problems. CBD, rather than shutting down immune responses like medications like Benadryl and Apoquel do, enhances communication between immune cells. This promotes a more controlled and targeted response to your pet's allergy symptoms.
Related: How Does CBD Help with Pet Allergies?
CBD for Your Pet's Skin Conditions
Topical CBD is a fantastic alternative for dogs suffering from skin conditions like dermatitis, psoriasis, allergies, infections, or even tumors, lumps, and other unpleasant growths. A significant study conducted by scientists at the University of Pisa in Italy found that the two primary cannabinoid receptors are abundant across the layers of dogs' skin. As a result, compounds like CBD are able to stimulate the skin's local endocannabinoid system pathways.
CBD stimulates healthy cell growth, inhibits malignant cell growth, and prevents tumor vascular development. Topical CBD salves are ideal for relieving skin irritation caused by allergies, as well as easing inflammation and redness. CBD also helps to moderate the immune system's reaction to allergens.
Related: CBD Salves for Dog Skin Conditions
Final Thoughts
Although CBD is not a panacea, research and experience have shown that the benefits CBD can have for your pet are truly incredible. CBD is not the right supplement for every ailment or every pet, but it may just be the best natural supplement for your pet's ailments. Unfortunately, CBD for pets is still a largely unregulated industry, leading to quality control and potency issues. That's why I put together this guide, to help you decide if CBD is the right supplement for your pet, and help you find the safest and highest quality CBD for your pet. You can also keep up to date on the latest research studies, here. 
About Angela Ardolino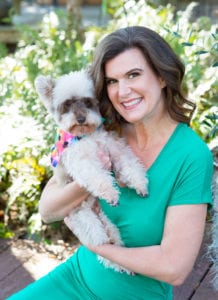 Angela Ardolino is a holistic pet expert who has been caring for animals for over 20 years. She operates a rescue farm, Fire Flake Farm, in Florida. In addition, she owns Beautify the Beast,  a natural pet salon and shop. Moreover, Angela got her certificate in Medical Cannabis Biology and Therapeutic use from the University of Vermont School of Medicine. Next, she founded CBD Dog Health to provide high quality, all-natural medical cannabis products designed specifically for pets. 
Accordingly, she uses Full Spectrum Hemp Extract on all her pets at her rescue farm every day since 2016. Angela has five dogs. Odie a 15-year-old mini-schnauzer, Nina a 9-year-old Doberman. Jolene a 9-year-old mutt, Maza a 9-year-old mutt, and Rhemi a 9-year-old poodle. In addition, she has 4-10 more any time she is fostering or boarding. She is a member of the Society of Cannabis Clinicians and the Veterinary Cannabis Association. In fact, Angela has educated hundreds of medical doctors and veterinarians on the therapeutic uses of medical cannabis on animals.