Plant Food & Nutrition with Billy Hoekman
Recently I did a podcast with Billy Hoekman, Vice President of Nutrition & Communication at Green Juju. Billy has been a guest of ours in the past, as the previous Nutrition Science Director at Answers Pet Food. In his new position at Green Juju, Billy is directly involved in formulation, product development, and nutrition education. We always enjoy having Billy with us, to talk about natural pet health and how food can help heal our pets. He is a trusted pet health advocate who specializes in translating hard-to-understand nutrition concepts into plain English for pet parents. On today's episode, Billy joins us to discuss the power of plants as food and medicine for our pets, and how pet parents can start the transition to a healthier diet. 
"There was a study, a Purdue study in 2005, that showed that dogs that eat kibble 100% of the time, but three days a week incorporated dark leafy greens, were 90% less likely to get cancer. And if they incorporated yellow and orange vegetables, they were 70% less likely. So I think that's a great starting point for people." – Billy Hoekman, referring to this 2005 Purdue University Study
Listen in to the whole episode:
About Angela Ardolino: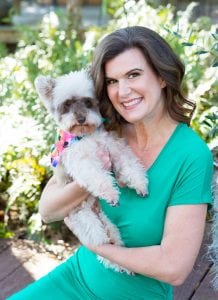 Angela Ardolino is a holistic pet expert who has been caring for animals for over 20 years. She operates a rescue farm, Fire Flake Farm, in Florida. In addition, she owns Beautify the Beast,  a natural pet salon and shop. Moreover, Angela got her certificate in Medical Cannabis Biology and Therapeutic use from the University of Vermont School of Medicine. Next, she founded CBD Dog Health to provide high quality, all-natural medical cannabis products designed specifically for pets. 
Accordingly, she uses Full Spectrum Hemp Extract on all her pets at her rescue farm every day since 2016. Angela has five dogs. Odie a 12-year-old mini-schnauzer, Nina an 8-year-old Doberman. Jolene a 7-year-old mutt, Maza a 7-year-old mutt, and Rhemi an 8-year-old poodle. In addition, she has 4-10 more any time she is fostering or boarding. She is a member of the Society of Cannabis Clinicians and the Veterinary Cannabis Association. In fact, Angela has educated hundreds of medical doctors and veterinarians on the therapeutic uses of medical cannabis on animals.
About Billy Hoekman:
Billy Hoekman is Vice President of Nutrition and Communication for Green Juju. He is involved in formulation, product development, science education, and sales and marketing. In addition, Billy participates frequently in expert panels and speaks nationally and internationally in venues ranging from universities and conferences to public libraries. Additionally, he serves on the board of directors for Royal Animal Health University, attends AAFCO meetings, and has numerous published articles. Billy is a trusted pet health advocate that specializes in turning hard to understand nutrition concepts into plain English. He is a proud member of the Weston A. Price Foundation and lives in Philadelphia with his wife Emily, their daughter Maple, and their dog Lua.